Let the show begin now. Apple has started the technology war over the in-app purchase Exploit that was found by a Russian Hacker few days back. The exploit/hack simply allows one to get the in-app purchases free without paying a single penny for the in-app purchase. The best thing about that exploit is that you don't need to be Jailbroken in order to grab that method. You simply need to follow few steps and then you are all done. You can steal all the in-app purchases without any hustle.
Sounds cool aren't it. It might sounds cool to you, but not to Apple. The tech giant of Cupertino, Apple at first made the first demo video of this hack in works from YouTube and then they filed a complaint notice against the Russian Hacker so he cannot provide the hack. Apple simply busted his Hosting provider and contacted PayPal to block his donations that he was taking from the people to make the hack alive.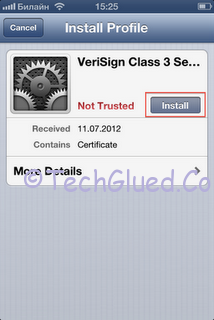 Apple played their move. Now lets see what the Russian hacker did.
The Russian Hacker named Alexey Borodin responded to Apple by uploading the second video on YouTube showing the hack is still alive and he has secured the exploit further, So Apple cannot patch it out easily. He has shifted his hosting provider to an unknown company that is out of reach of Apple. Secondly, he is now receiving donations from an unknown service called Bitcoin.
Video:
According to Borodin, the exploit has used over 30,000 times and he don't need to pay for the downloading band-with requirements because he is getting a lot from donations that is helping him to keep the servers alive.
This hack only works with limited Apps. The list of Apps on which the Hack works are not listed so far, though the Apps that interact with Apple Servers to make the payment are the one that will work with this exploit. Amazingly, the hack hasn't stopped in the latest iOS 6 Beta 3.
So far, Apple has been PWNED by Alexey and the Jailbreaking community. At first Apple couldn't fight the Jailbreaking Community and now this new game have started? Although Jailbreaking was granted as a legal act and this act of in-App purchases is illegal. We wouldn't recommend you people to go for this act and make the in-app purchases.