As we are moving towards the end of 2012 and five days before we could enter in 2013, we come across many special events on which things are putted on sale. The right time for people to buy different products on limited time sale that is being offered for the holiday period starting from the last week of December. In order to avail different discount offers, people usually make lines outside different stores to be the first one to avail the discount offer and before the product sells out. The scenario of the lines outside the stores is somewhat the same as of an Apple product is launching.
However, the sale, which takes place in, seven stores across the country, cannot be replaced by all the preceding sales in the world. This sale is limited to one country that is Japan and the name of this sale is "Lucky Bag" putted on by Apple annually. The sale is limited to Japan only and it is putted on by Apple across seven different stores in the country allowing a user to spend 33,000 yen ($390) on a gift bag that is called "Lucky Bag." This Lucky Bag includes headphones, an iPod Touch, cases, an Apple T-shirt, and other accessories. Other than these products, very few bags are loaded with a MAC Book Air or with an iPad that is given to  very few lucky people.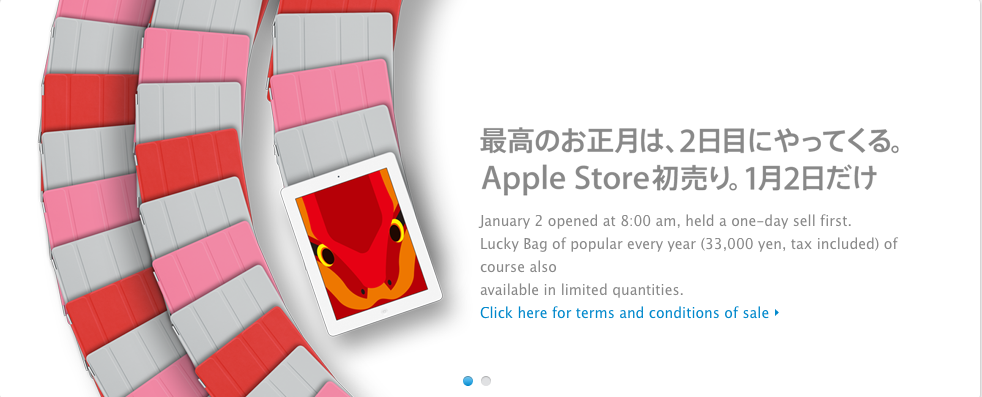 This sale of Luck Bag in japan is same as of the Black Friday Sale in the U.S.A. every one who needs to grab something from the sale, lineups days before the sale could start or some hours before the sale could start. It goes for this Lucky Bag sale. People who lineup from before to get full advantage of this sale are rewarded better.
The lucky bag sale in Japan will take an initiative from January 2 and will go on until January 7. The Japanese Apple fans and readers will have solid five days to experience their luck. In order to participate in the sale and to get more information, kindly log on to Apple's official website here and see all the terms and condition they got for the limited stock.