The clock is ticking like a bomb for the Japanese user because today is the day when they will be able to experience their luck at the Apple Store Japan. As we reported earlier about an Event that is similar to Black Friday called "Lucky Bag Sale." This event of Lucky Bag Sale happens across Japan every year. On this event of Lucky Bag sale, very few lucky users get a chance to win MAC Book Pro, iPod's, and much more in the lucky bag that accounts for 33,000 Yen.
The sale of Lucky Bag will go live in seven different cities of Japan on January 2, 2013 that is today. The time at which the sale would go off is 8AM, which is only three or four hours away according JPT (Japanese Time).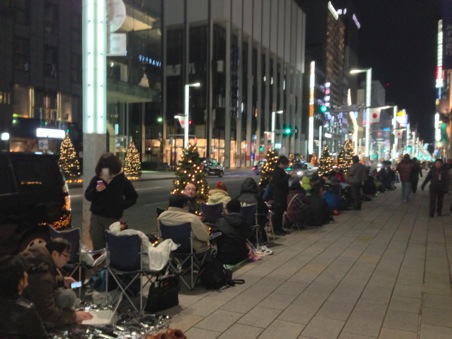 Image Via (web.meet-i)
This Lucky Bag includes headphones, an iPod Touch, cases, an Apple T-shirt, and other accessories. Other than these products, very few bags are loaded with a MAC Book Air or with an iPad that is given to  very few lucky people.
A part from this lucky bag sale, Apple's Japanese Website is offering a good discount on different products. The discounted price was set for New Year and will end later today.