Apple is back with another Media Event after the announcement of its iPhone Flagships. Apple October 2013 Event will be dedicated to the iPad because it is the time for them to rise and shine. It has been one year to the legacy of the iPad 4 and now the time has arrived for Apple to announce a new member in the family under the name of iPad 5. Amazingly, this year we might not be seeing iPad 5 as a sole show stopper, but we might see iPad 5, iPad Mini 2 along with MAC PRO release date, and OS X Mavericks to brighten the events eve on the stage.
It is heavily expected that Apple is going to announce iPad 5, iPad Mini 2, and 2 other un-announced things that were set for this fall. Those other two things are OS X Mavericks and MAC PRO new model that was announced at WWDC 13, but it wasn't given a price tag and a release date. Indeed, Tim Cook, on the stage said that the release would be done in Fall.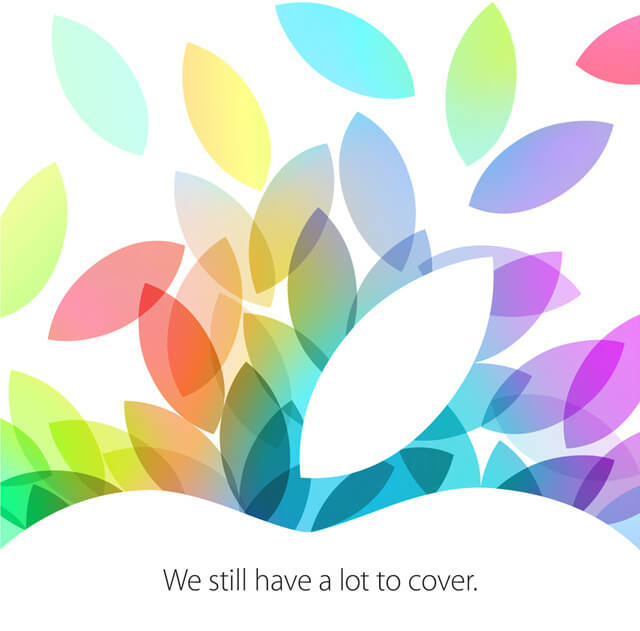 Therefore, fall started from August and Apple didn't announce anything related to OS X Mavericks or MAC PRO's in September on its Media Event. Hence, we will be seeing the final version of OS X Mavericks with pricing and MAC PRO's with a beautiful price tag on Apple October 2013 Event dated October 22, 2013.
However, later today Apple issued October Media Event invites for the media calling them on October 22, 2013 because they have a lot to cover. In this A lot to cover, we can expect multi-color iPad's to surface at the event as well.
We are expecting the multi-color scheme to arrive in the iPad Mini series because Apple announced iPhone 5C as a low-cost iPhone with multi-color variants and iPad Mini is always priced less as compared to iPad 4.
To conclude everything, we have a handy list of Apple October Event 2013 products announcement prepared for your view since September. You can get hold of the list from here.