The murmurings and rumors about the next Gen iPad are finally coming to an end. The Loop just notified that Apple has officially announced and have sent out Media Event Invites for 7th of March, Wednesday. The media event will take place at Yerba Buena Center for the Arts in San Francisco, starting 10 AM (PDT).
Looks like Apple strongly believes in the quote that " A Picture is Worth Thousand Words".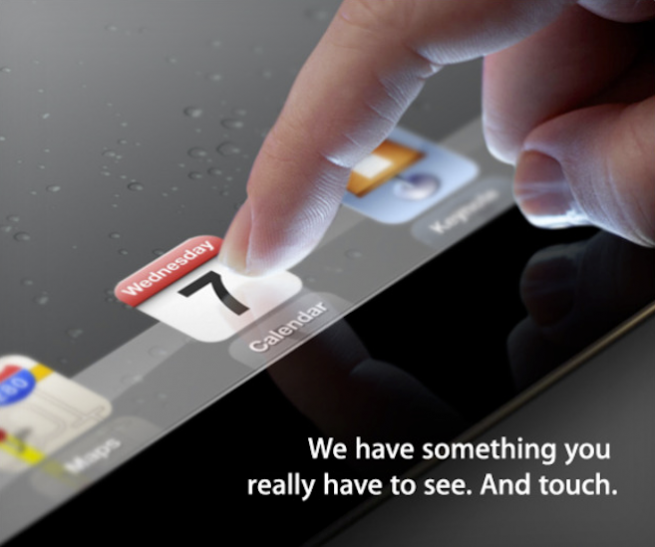 Apple simply shows in the picture above about their Media Event date, place, and event. The maps on left indicates the location of the place, the calendar App shows the date of the event and the Keynote simply tells about the presentation. Apple also teases the Media with a great tag line stating that:
We have something you really have to see. And touch.
The image above and the tag line clearly states that Apple has planned up something big and amazing coming on its way. The image above point out towards the long rumored high resolution Retina Display for iPad 3 which is (2048*1536) pixels.  The strange thing is that there is no Physical home button shown in the picture above. We expect that the above picture is of iPad 3 and it is in portrait mode. The icons are quite clear and glossy which confirms the Retina Display in iPad 3. The processor is said to be Dual-Core A5X chip which is intend to be a little modification of the A5 chip present in iPad 2. We might not see the rumored A6 chip in the iPad 3. The A5X chip must get the graphics engine improved than the one present in iPad 2.
This year rumors were high about not only iPad 3, but it was also rumored that we might see three different kind of iPad's this year. The first is the iPad 3, the second we can expect a low cost iPad Mini and what will be the third one? This is not yet confirmed whether Apple will be unveiling three iPad's this year or not.
We will see and iPad 3 on 7th March 2012 for sure. We will try to update you as the event is happening.