Earlier this week we report about a sad incident that took place in China where 23 years old women became a victim of iPhone 5 electrocution while it was on charge. This was the first time when we heard about an iPhone being the culprit in recent years. When we came across this report of iPhone 5 electrocution, at first we didn't believed because weeks before this incident, a Samsung Galaxy S4 exploded while charging and the possible cause of that incident was over heated due to over charging.
Therefore, we didn't make any conclusion at that time and waited for the officials to respond in this matter of iPhone 5 electrocution. However, we did tell about possible reasons of the iPhone 5 electrocution while on charge and none of them was the reason of this incident. The alleged reason for the electrocution of the Ma Ailun was something different.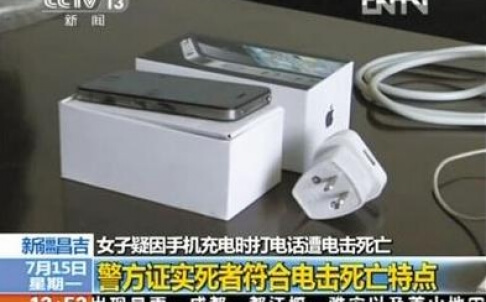 That something different was a knock-off charger used by Ma while charging her phone and attending the call made her electrocute.
According to Xiang Ligang, a telecommunications expert interviewed by CCTV, the charger Ma had been using may have been a "knockoff" – a fake. "

Knockoff chargers sometimes cut corners," Xiang said. "The quality of the capacitor and circuit protector may not be good, and this may lead to the capacitor breaking down and sending 220 volts of electricity directly into the cell phone battery."
On the other hand, reports claimed that the iPhone used by Ma was not the iPhone 5, instead of the iPhone 5 it was iPhone 4 that lead to this incident of electrocution. The iPhone 5 claim seems to be totally wrong because it is made of Aluminum and the iPhone 4 is made of stainless steel.
Hence the iPhone 4 can be the culprit of the case with counterfeit charger used for charging the iPhone.
Xiang said that normally, the electric current from an overloaded charger would overheat the phone's casing, damaging the circuits inside and rendering the device unusable. In the case of Ma's iPhone 4, however, authorities said the phone could still be started normally despite severe traces of burning on its exterior. The phone's data cable, charger, and plug were all intact.
Police is still investigating the case to find the main reason that lead to electrocution and further it led to death of Ma Aliun. Other than the police, Apple has also vowed to look into the case and co-operate with the authorities in this matter.