In the second week of this month, we are back with the second case from China regarding the iPhone electrocution leading to death and sending people to coma. In the previous week, we told you about a 23-Year-Old Chinese Airhostess who was electrocuted by the iPhone 5 (possibly iPhone 4) while it was on charge. The reason of her electrocution was said to be a DC Volt landing in the iPhone battery that further led to death. While the investigation in progress, an alleged report surfaced stating about the main reason behind her death would be the use of third-party charger because they are made of low quality.
Now in the second week, we came across the same issue of iPhone electrocution that led a 30-year-old Chinese Man in Coma. Wu Jiantong, a 30-year-old Chinese Man, who was shocked by the iPhone 4 while he was placing it on charge. After getting shocked by the iPhone 4, he was admitted to I.C.U immediately at Hai Dian Hospital in Beijing.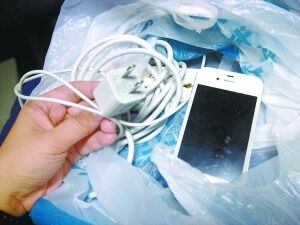 According to xinhuanet, Wu Jiantong, 30 had yelled for help when the iPhone 4 while placing it on charge was shocking him. His sister connected to happening added that she ran over to help his brother after hearing him. She quickly turned of the charger to save his brother's life.
 "I then felt needle-like pains on my fingertips. The current was running from my finger, through to my arm and body, and to the foot," said Wu's sister. By then, her brother was not responsive, and was twisting and foaming at the mouth.
After the matter cooled down and Jiantong was taken care off, her sister told the authorities that the charger wasn't a genuine Apple product; indeed it was a knockoff iPhone 4 charger. However, the iPhone and charger are not damaged. They both are in working condition.