Just imagine that you bought a new Galaxy S Flagship a month ago and it was released the preceding month of your purchase. Imagine the moment of happiness that you will be facing after buying the newly released Galaxy S handset. Lets suppose you bought a shinning Samsung Galaxy S4 and in the middle of night you smell something burning. When you get up to see what is burning and upon seeing you realize that Samsung Galaxy S4 that you bought a week ago is on Fire while it was on charge. What will be your reaction towards the situation? All the exciting moment of few days will be converted into grief moment and swearing on Samsung would be turned on.
This happens once in a lifetime or we can say hardly twice in a lifetime that people somehow end up burning their Samsung Galaxy S Flagship smart phones while one charge. In rear cases, people fake the burning issue to destroy the reputation and mostly the case of burning is genuine. In past we have seen the burning of Samsung Galaxy S3 in a users pocket and today we came across news that Samsung Galaxy S4 went on fire while it was on charge.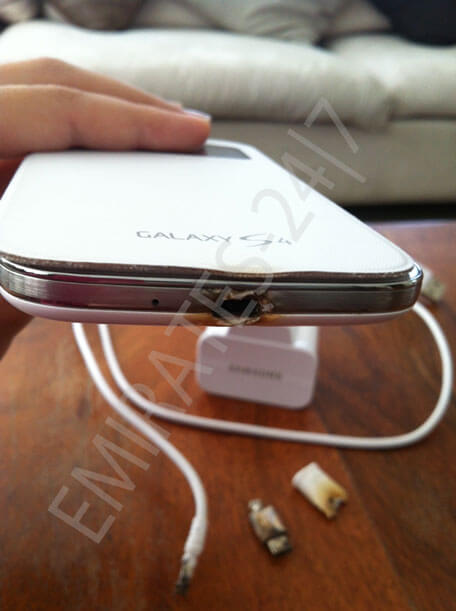 Any tech savvy person didn't own the Galaxy S4 or any one who can fake the burning like it was done once for Samsung Galaxy S3. Indeed, a Girl named Sarah owned this unlucky Galaxy S4 Model. She bought the device on May 29, 2013, where as Samsung Galaxy S4 in Dubai launched a month ago.
"Sadly, one month later [after she bought the Galaxy S4], the phone was found burning, while charging. It's only thanks to God that I woke up in the middle of the night and controlled the burning before it could cause damage to my home and family," she wrote.

"I woke up in the middle of the night to [attend to] my toddler, and it was about 2am at night. I think it was charging for about 3 hours by then," Sarah told emirates247.
After the report of Samsung Galaxy S4 on Fire in Dubai was published on Emirates24/7, Samsung Gulf took an action and responded to this issue immediately to secure its PR in Gulf. In response to this issue of Galaxy S4 on Fire, Samsung Gulf said:
"We have gotten hold of the product in question, and will be conducting a thorough examination to determine the exact cause of this incident. We would like to assure our customers that we have always employed strict quality control and safety standards to ensure a safe and pleasant user experience."
We are glad that no one was hurt during the incident or the fire didn't combusted at large to make a proper mess. Sarah handled the situation on time and now she has been provided a new Samsung Galaxy S4 with a Flip Cover in Replacement.
Our Analysis of Samsung Galaxy S4 Going on Fire:
We cannot tell the root cause of the issue that lead to Galaxy S4 on Fire. We can tell you the causes that might have led the Galaxy S4 on Fire.
First of all, it is a smartphone and not laptop that is being charged overnight. Every smartphone has its own charging time and should be pulled off when it's charged at Full because the charging continues to supply power until it is not removed from the socket.
This is one of the major reasons that lead to burning issues. As we stated above that it's a smartphone and not a laptop, therefore, it gets over heated and results in Firing up the charging port or some other issue.
The second cause can be the use of pirated cable or wall charger. Most of the time these things also help in causing fire due to short-circuit or so.
Third thing can be the issue at company's end that they supplied a defected piece accidentally or didn't checked every piece at their end.
Conclusion:
We would recommend Samsung to start making Galaxy S Series Flagships Fire Proof after they have introduced Galaxy S4 Active as Water Proof and after seeing all the incidents of burnings.