The public release of iTunes 11 is now live. At last, Apple has released the revamped version of the iTunes 11 with many new and major changes. At first, the iTunes 11 got a complete new design with complete integration with iCloud and many other features. The UI of iTunes 11 is now user friendly than the preceding versions of the iTunes. The new UI of iTunes 11 allows a person to organize his music library, movies, books, and many more things in a proper manner. Apple has changed the side bar of the iTunes menu into a stationary drop down menu in which the categories like Music, Videos, Books, and many more things are listed.
With the help of this awesome drop down option, a user can easily arrange their music library according to their needs or the way they want to arrange them.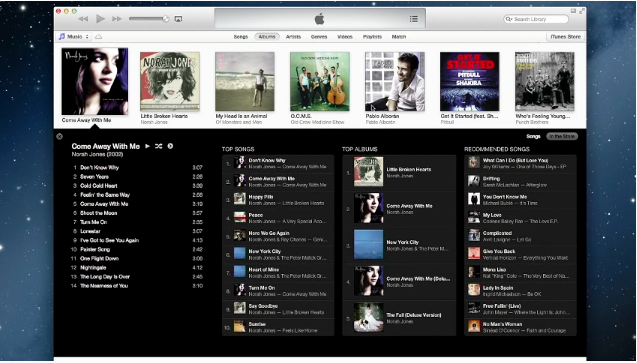 Moreover, Apple has changed the way we used to see albums in iTunes. Apple has integrated accordion sort of drop down menu for the albums rather than showing the complete list of songs available in the albums option. When a user clicks on a particular album, a drop down menu opens in which he can see the songs placed in the album. On the same time, a user can get some matching songs related to the album he got via iTunes Store.
Other than this, the interface of device displaying area has been changed as well. iTunes 11 takes the device displaying area to a whole new level. This is one of the most amazing thing that we liked in iTunes 11 along with other features.
After all the features and new UI, comes the turn of awesomeness that we wanted to have in iTunes from ages. The name of the awesomeness is called the Mini Player. Apple re invented the iTunes 11 by providing it with a new and best feature of Mini Player. Mini Player is the minimized version of iTunes 11.
This mini player may look mini than the iPad Mini, but the functions provided this Mini Player couldn't be found in any other player. This iTunes 11 Mini player allows a user to customize the song list by providing them the ability to make their own songs album. After the user have made the songs selection for them, they can further edit the list by seeing the next song and can even search for songs in the iTunes with the help of this Mini Player.
The story doesn't ends here. The user can even airplay the song or video that he is watching on iTunes 11 on Apple T.V or any other iOS Device.
Finally yet importantly, the iCloud integration in iTunes 11 allows a user to download his purchases on iPhone/iPod/iPad without downloading the application, video, or song again from their device. iCloud also allows a user to see the video from where he left the video.
Including all the above-mentioned features, there is more waiting for you to download and experience the features that you never experience before. You can download the latest version of iTunes 11 for Windows and MAC from the Apple's Software update or
Download iTunes 11 for MAC (Link)
Download iTunes 11 for Windows (Link)