Facebook is the biggest social network which is expanding day by day. Facebook is the first social network which somewhat made other social websites go out of business. It attracted more than a million of people are its successful launch. People from different social websites like Orkut, MySpace, and many more closed their accounts to migrate to Facebook. Facebook in a short time got a lot of name around the World Wide Web and has been changing its interface on yearly basis. Time Line is the new feature that is currently rolling out on Facebook and it is not liked by everyone. Not everyone is compatible with the new feature introduced by Facebook.
Facebook not only introduced Time Line, they also introduced video calling and a new chat interface. They also introduced Facebook Messenger App for iOS and Android. After introducing the App for Mobile OS's they thought to come up with something new and unique, they looked up for a way by which they can make life easier of the users. So they came up with Messenger for Windows which was leaked back in late December. The Facebook Messenger is now officially available via Facebook's official page for Windows.

The interface of the Facebook Messenger is said to be the same as the test version. The Facebook Messenger got the same Google chrome like tabs, the Messenger got news feed, friend's online list, and it shows you the notifications and the friend request section also. In other words, Facebook is trying to help out the users who don't want to login again and again in order to see the friend requests, there notifications or who is online or not. The team is simply trying to bring users to desktop and helping them out to reduce their time and energy.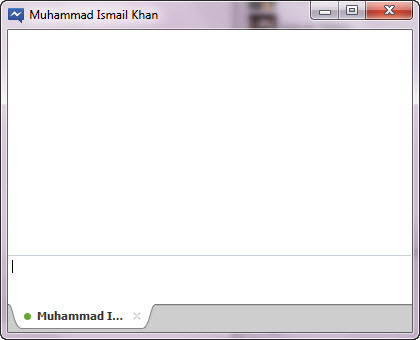 The Facebook Messenger is only available for Windows 7 so far and the work for Windows Vista is in progress whereas the Windows XP users got no luck because Facebook Messenger won't be supporting Windows XP. A part from Windows Vista, the Facebook Messenger is also said to be coming to OS X Platform sometime soon. The Verge reports that:
"A Mac version is on the way, but the company declined to give us a time-frame for that one."
It seems that the Facebook Messenger for OS X would be a major update and will bring some new and enhanced features to OS X. We can expect the Pop up Notification in the upcoming Facebook Messenger for OS X integrated with OS X Lion.
All we have to do it wait for OS X update and see what is new in the box. What do you people thing would be new in the box?