iPad 3 launch is set for this week's Wednesday, 7th march and Apple is dressing up the Yerba Buena Arts Center for the launch of iPad 3. On the other hand the long started rumors are not trying to shut themselves up. Every day we are hearing new rumors about the upcoming iPad 3 and some other things are also expected to launch with iPad 3 this year. The time will tell and make the rumors shut up. As iPad 3 is confirmed this year and in this month, we can exclude it now from all those rumors we were hearing in past.
Few days back we came across a rumor stating that the iPad 3 prices will hike by $70-$80 as compared to iPad 2. This means that the price of iPad 3 16GB would be $570-$580 on its launch. Luckily this is not going to happen. The price hike news goes wrong as 9to5mac releases the official prices of the iPad 3, given to them by MR.X. The price structure is as follows: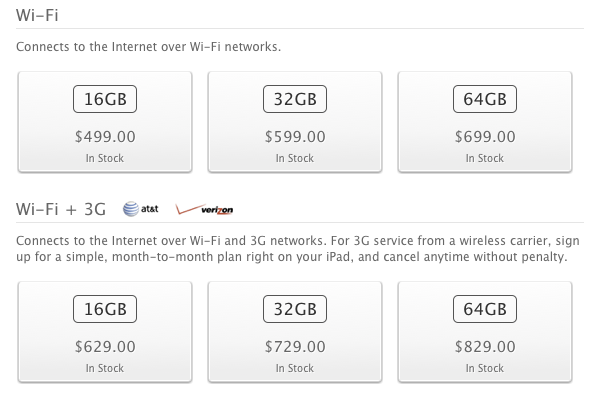 The prices for the iPad 3 are the same as iPad 2 and the prices are said to have downfall in some countries that are better off than U.S Dollar. The model of the iPad 3's will be the same as the iPad 2. 16 GB, 32 GB, and 64 GB. The Model numbers for the iPad 3 are as follow:
MC705LL/A – J1 GOOD A-USA

MC706LL/A – J1 BETTER A-USA

MC707LL/A – J1 BEST A-USAMD328LL/A – J1 GOOD B- USA

MD329LL/A – J1 BETTER B-USA

MD330LL/A – J1 BEST-B-USAMD366LL/A – J2A GOOD A-USA

MD367LL/A – J2A BETTER A-USA

MD368LL/A – J2A BEST A-USAMD369LL/A – J2A GOOD B-USA

MD370LL/A – J2A BETTER B-USA

MD371LL/A – J2A BEST B-USA
This year Apple is expected to release a low sized and spaced tablet to compete with its competitors. We can expect an iPad-Mini with the capacity of 8GB with some good improvements. iPad-Mini might sound strange but Apple will have to make one to compete its competitors.