Today the iPhone 5 went on sale around the globe. Not all, but some people have got their hands on the big thing today and some got the big thing shipped at their doorstep today. Today must be the happiest day for all of those who bought an iPhone 5 and are using it. This same day, iPhone 5 kicked the arse of Galaxy S III in the real-time drop test that made our day. We hope the drop test video might have made your day as well. After seeing the drop test video, you must be feeling proud to have an iPhone 5 rather than the plastic Galaxy S III.
Joining the happiness with all of you, the well-known social Apps updated their Apps with the support of the iPhone 5 and iOS 6. The well-known Apps are no other than, Facebook, Twitter, and WordPress. We are not counting the WordPress App in the social category because it is used by different people to maintain/update their websites. Anyhow, these three most used Apps got updated for the iPhone 5 and iOS 6 support today with some minor changes made to each of them.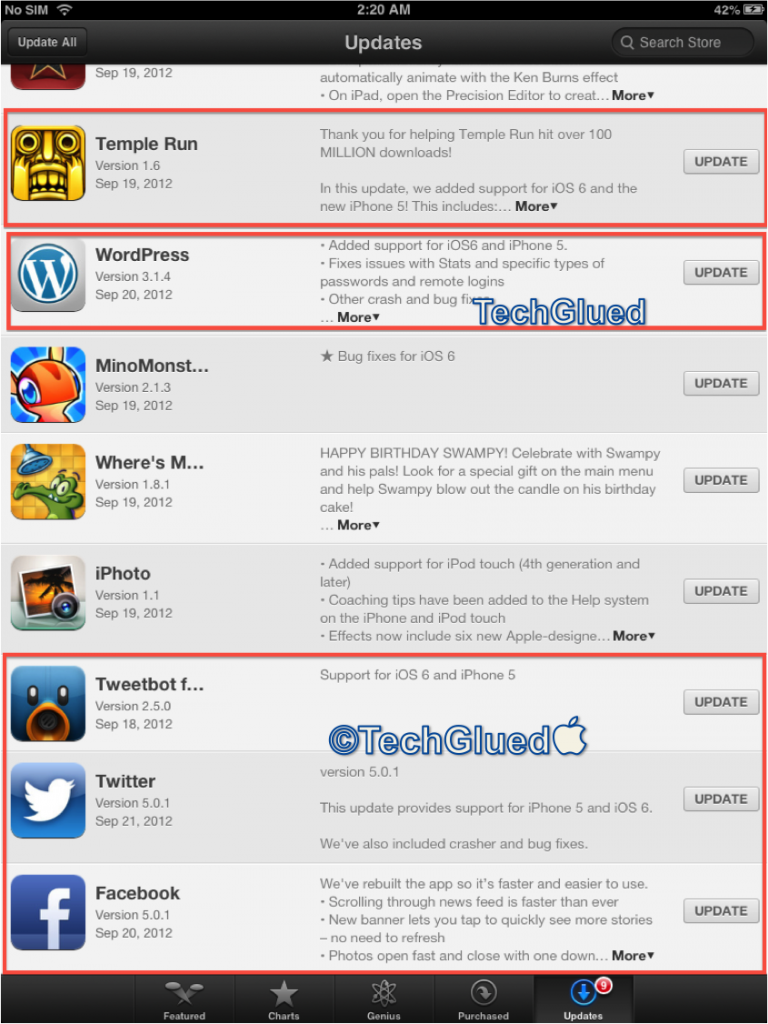 This new trio update of the Apps is now available for download via the App Store or you can update the existing version of the Apps from the App Store available on your iPhone.
Other than this trio update of the Apps, we have noticed other Apps are also updating for the iPhone 5 and iOS 6 support as soon as they can. As you can see in the image above, Temple Run Brave, Tweetbot, iPhoto, iMovie and many more Apps got an update to support the new iPhone 5 and iOS 6.
The process of update will be going until unless all the Apps are updated in the App Store to support iOS 6 and iPhone 5. Do check for the updates of the Apps on regular basis because Apple has told the developers to update the Apps as fast as they can, so a user doesn't get disappointed.
We will keep you updated with all the new updates of the Apps for iOS 6 and iPhone 5 in near future as well. if you find any cool update lined up on your iPhone for iOS 6, do let us know.