The date of September 21 must be recorded in the Guinness Book of World Record. On this date and day, many amazing things were done. The same day iPhone 5 went on sale, iPhone 5 kicked the arse of Galaxy S III and the iPhone 5 was PWNED by Grant Paul (CHPWN), the iOS hacker. Today after the iPhone 5 went on sale, every one got their hands on the iPhone 5 including some of the Dev-Team Members for sure and out of them Grant Paul has got one for sure because he PWNED the iPhone 5 running iOS 6 the same day it got released. This new news of iPhone 5 Jailbroken is spreading like a fire in the jailbreak community.
While people were getting the iPhone 5, no one even imagined about the Jailbreak would be done this fast. Every one including us thought the Jailbreak would come some time after 3-4 months of time span. However, today, our expectation went wrong. The iPhone 5 got Jailbreaked the same day it went on sale. CHPWN teased an image of the iPhone 5 showing Cydia on the taller screen of a 4-inch display.
Few minutes back, @CHPWN Tweeted from official Twitter account showing an image of Cydia on the taller display.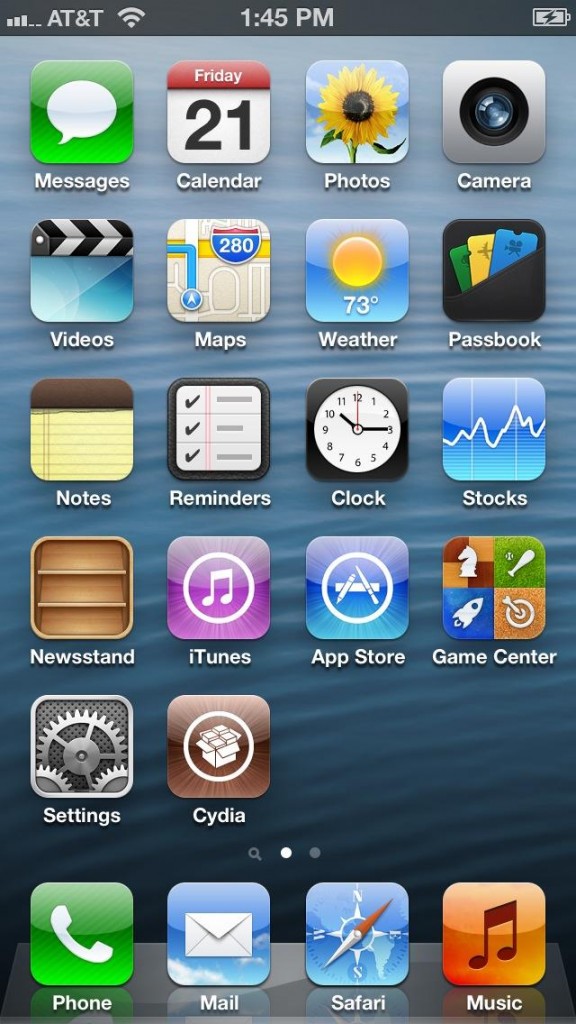 Taller screens like Cydia too. :) twitter.com/chpwn/status/2…

— Grant Paul (chpwn) (@chpwn) September 21, 2012
Now doubt the taller screen likes Cydia too, but the icon of Cydia is small. The icon of Cydia needs to made a big tall to fit on the larger display.
A part from the picture of Cydia on iPhone 5, the Jailbreak for the iPhone 5 is not coming until few weeks. The Jailbreak needs to work on and to make Cydia compatible iOS 6. When the work is done, the Jailbreak would be released. So far, the Jailbreak for A4 Devices is also not present now on iOS 6 because of the broken status of Cydia on iOS 6.
Once Cydia ahs been worked on, the Jailbreak would be out for iOS 6 on limited devices. The limitation will be up to A4 devices. People owning an iPhone 4S, iPad 2, iPad 3, and the iPhone 5 would need to wait until a perfect solution hasn't been found. After seeing Cydia on iPhone 5, we don't think that it will take iOS 6 Jailbreak long to arrive. We expect the Jailbreak in few weeks because iOS 6 got some bugs by which the Jailbreak can be done/found easily.
If you have bought an phone 5 today or will be buying one in near future, don't just wait for the Jailbreak to arrive and then buy one, instead go an buy one for yourself before Apple releases another iOS 6 update to fix the previous bugs.
UpdateX1:
Cydia homepage teased on the iPhone 5.