The surprise of Samsung Galaxy S4 Unveiling might have ended because the U.K retailer has posted alleged Galaxy S4 Images portraying the design of the upcoming Flagship. We are only nine days away from the unveiling of Galaxy S4 by Samsung in New York at Times Square and days prior to release, the leaks are taking off the surprise that Samsung wants to give its users. Samsung has heavily advertised about the upcoming Flagship of theirs under the name of Unpacked Event on March 14 in a Video Teaser, Posters, and Media Invites.
However, as of now it seems like this online retailer in the U.K who posted out alleged Galaxy S4 design images on Monday blows off the cover. The name of the online retailer is Expansys that is an online retail website in the U.K. this website posted some images of Galaxy S4 with the confirmed specifications putting more weight on the leaked design of Galaxy S4 to be legit.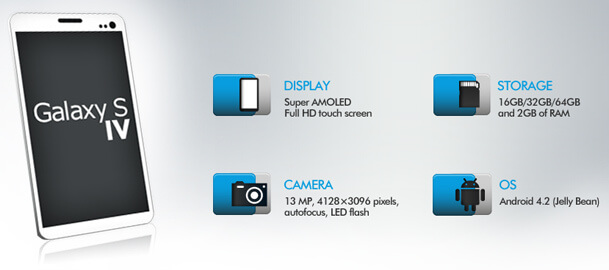 At this time nothing can be said if the images are from Samsung its self or it is just a render made by Retailers to portray the image of upcoming Galaxy S4. Whatever the scenario is, all we can say is that the images of Galaxy S4 seems to be appealing and fits perfectly according the rumored 4.99-inch screen.
Other than this leaked design of Galaxy S4, the day before we told you about the glance of Galaxy S4 in a video teased by Samsung officially portraying Jeremy the Messenger of Unpacked Event on March 14. The video showed the same sized Galaxy S4 for few seconds in black color.
Moving on towards the design, as we said previously that the authenticity cannot be done regarding this image because no solid evidence has been found regarding this image. Upon finding the authenticity of this image, we came across a throbbing fact that the design of Galaxy S4 shown in the above image looks familiar to the iPad Mini. The width, size of the screen has been decreased and home button has been removed as well. Rest the round corner edges and sides make it look more like a small iPad Mini.