The release of Samsung Galaxy S4 on March 14 is rock firm. The time has come to say good-bye to all the rumors that were speculating about the upcoming Galaxy S4 for March 14 and we must say a big Thanks to them for speculating such alleged news that helps the reader to stay up to date prior to official announcement. However, according to our reports of February 19 stating that Samsung has moved the date of Galaxy S4 launch a month before than the actual release date, Samsung is now confirming date officially.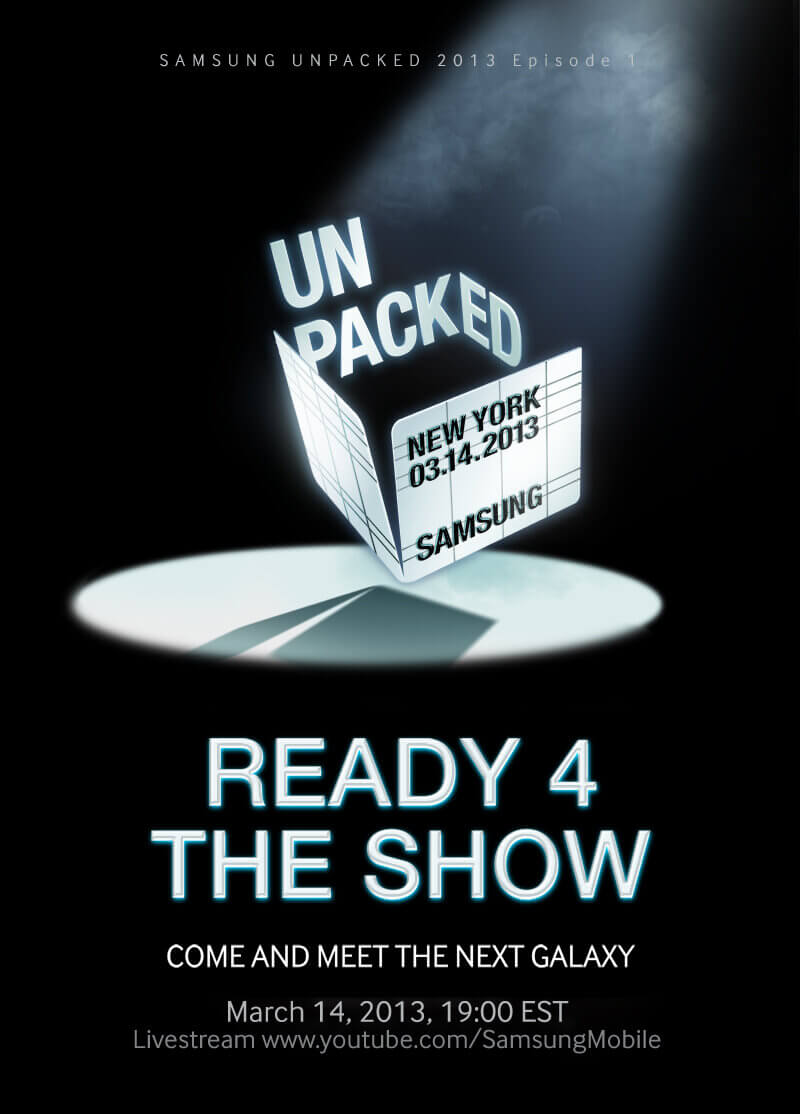 The release date we speculated was of March 14 and today Samsung Tweeted on its official Twitter account with a teaser of Mobile Unpacked event taking place on the same date. According to the teaser teased by Samsung for the upcoming Media Event of Unpacked on March 14, the slogan chosen by Samsung clearly hint towards the arrival of 4 because the slogan says "Get Ready 4 The Show." This clearly means that Samsung has got another Flagship of Galaxy S Series waiting to be unveiled on March 14.
March 14. Ready 4 the show? #UNPACKED twitter.com/SamsungMobile/…

— Samsung Mobile (@SamsungMobile) February 25, 2013
The affirmation of Samsung Galaxy S4 might not be surprising any more because we already know about the features and tech specs of the upcoming Galaxy S4. These things were leaked months prior to official announcement. Therefore, there is nothing to get excited about in Galaxy S4.  Though there is a thing to worry about in Galaxy S4 and the thing is the processor of Galaxy S4 that will not be made by Samsung.
The processor that Samsung planned to equip in Galaxy S4 was of EXYNOS and the processor that is going to come in Galaxy S4 will be of Snapdragon because EXYNOS was having some heating issues due to which Samsung dropped the support of it and opted for Snapdragon. At this moment, there is nothing to worry about Galaxy S4 because the story of processor is semi-confirmed. it is assumed that Snapdragon processor will give an outclass performance because the same processor with a bit low-speed is being used in HTC ONE that was recently announced.
Moreover, the specifications of Samsung Galaxy S4 are:
– 4,99″ Full-HD SoLux Display
– Snapdragon 600 1.9 Ghz
– 2 GB RAM
– 16, 32 or 64 GB
– 13 Megapixel
– 140.1 x 71.8 x 7.7mm
– 138 gram
– Home button with touch buttons
– Plastic back with aluminium sides
– Removable battery
– Black / White
As we are moving towards the end, let's make the arrival of Samsung Galaxy S4 March 14 date spicier. In order to make it spicy, we have already seen the real-time model of Galaxy S4 that was leaked prior to launch on March 14. The image of the leaked Galaxy S4 GT-I9500 is present here with complete details.