A year has passed when the Apple Inc. releases the iPhone 4S, October 4th it was and the next day was when the co- founder of the Cupertino Company and Pixar died due to Metastatic Insulinoma. He went off from the seat of CEO in August 2011 moving to the Board of Directors of the Cupertino Company. He released the revolutionary phone on which he worked a lot and this product changed the science of the smartphone.
Today is the 58th birthday of Steve Jobs but he is no more with us. After his death he was referred as the "Father of the Digital Revolution", "Master of Innovation" and more. He is resting in a graveyard of Palo Alto, California, America. Steve Jobs was a millionaire by the age of 25 and was one of the youngest millionaires. He was diagnosed with pancreatic cancer in the year 2003 but didn't went under-operation due to innovations and the day he revealed iPhone he had an operation and for the first time in the history a CEO revealed his blood pressure to public that how much he was sick. He had an operation that evening that pancreatic cancer and iPhone started to eat inside of Jobs.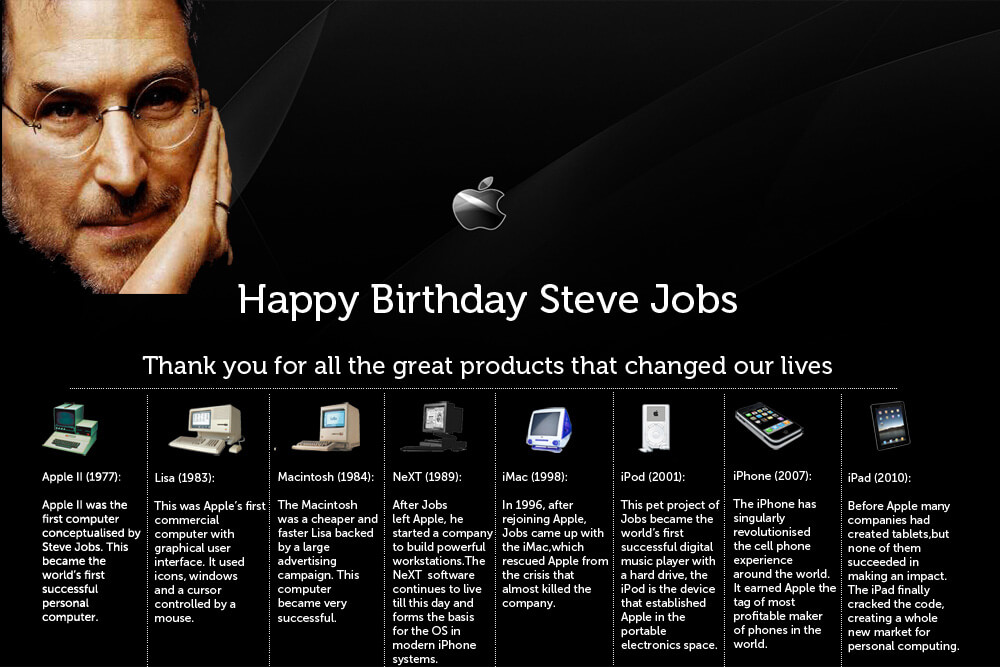 Jobs used to go the church in Los Altos every Sunday to have free dinner as he used to go in his childhood. He also changed his religion after he went to India in 1960's; he was born Lutheran Christian but died as a Zen Buddhist. Jobs had two sisters, Mona Simpson who is currently a write was her biological sister and Patricia Ann Jobs was her adoptive sister. He had four children's; one was from her girlfriend back in 1970's named Lissa Brennan Jobs, other three from her wife Laurene Powell. His son Reed graduated before his death.
There are many other things we don't known about Jobs but Water Isaacson's biography of Steve Jobs reveals most probably one thing and this year we will also be watching the biographic-movie of Steve Jobs "jOBS" starring Ashton Kutcher releasing on 19th April.