The competition among Smart Phone vendors has started to emerge to a completely new level. The era of kingship to rule the smart phone market seems to be ending with the start of 2013. The year of 2013 is packed with full innovation from different smart phone vendors that have started to arrive from the passage of time. Leader of this innovation would be HTC and following HTC; it is believed that Samsung will be the second one to join this competition. Those of you who are not aware of the innovation about which we are talking and starting it from HTC as the leader, we would like to acknowledge you that HTC has sent out Media Invites the day before yesterday teasing the word, "Save the Date."
This simply means that HTC is planning to Release a new Smart Phone called HTC ONE M7 that is schedule for Tuesday, February 19 release. Following the release of HTC ONE M7 on Tuesday, we got Samsung lined up for its Galaxy S IV release scheduled for April. The release date of Samsung Galaxy S IV in April is not confirmed because the nothing is official yet. Everything about Galaxy S IV is skeptical. Earlier this month, the release date of Galaxy S IV jumped a month back from April to March claiming the date to be March 15.
The rumor pointing out the release of Galaxy S IV on March 15 was denied by an Industry Insider called Eldar Murtazin claiming the release of Galaxy S IV to be done a day before the rumored date that is March 14. The reports of Galaxy S IV release date on march 14 comes from a Tweet sent out by Murtazin on his Twitter account stating that HTC ONE M7 will miss the sales on this date as they missed the sales in 2012.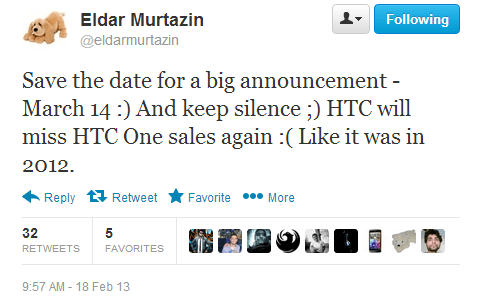 The chances are high for Samsung to unveil its new Flagship on March 14, but we wont suggest you to put your faith into this news because manufacturers often move the production date from time to time depending on the situation.
At the moment, lets not concentrate on Galaxy S IV more because HTC is coming up with a real competition this Tuesday. HTC has planned to unveil something big and innovative that will for sure give a tough competition to existing market leaders.