We got some hot news in the town for the developers who are on iOS 6b1 and wanted to have Cydia on their iPhone/iPod. But, due to the broken status of Cydia on iOS 6b1, they couldn't have Cydia after the official Tethered Jailbreak for iOS 6b1 announced few days back by The iPhone Dev-Team. The Jailbreak is only for Developers who want to update their Apps on iOS 6. The Jailbreak doesn't add Cydia on your Device, though it adds SSH Support on your iDevice by which you can access the Root and do your works. It also adds afc2d support that allows your iPhone/iPod to connect to root by software's like iFunbox or Cyberduck for MAC.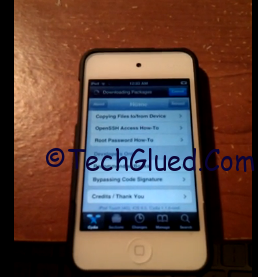 Still there is no way by which a normal person can access to iOS 6beta 1 without a Dev Account. You can register your UDID and then can access iOS 6beta 1. We would recommend staying away from iOS 6 betas because they are way to buggy and not stable. On the other hand, we got a method for developers who are on iOS 6 beta 1 to install Cydia on their iPhone/iPod. Do remember that Cydia is not stable on iOS 6 beta 1 and you might face problems after installing it. Rest is up to you.
If you are ready for Cydia fund on your iPhone/iPod, simply first Jailbreak your iPhone/iPod with this guide and then follow the steps below.
Step 1:
Connect to SSH
Step 2:
Copy and run the following command (the whole thing, you may need to scroll):  wget -q -O /tmp/cyinstall.sh http://wyndrepo.googlecode.com/files/cyinstall.sh && chmod 755 /tmp/cyinstall.sh && /tmp/cyinstall.sh
Step 3:
If you do not see cydia, power off and reboot tethered.
Note: I think uicache is broken which means some icons will disappear; just respring after installing something. (Method Courtesy @Andrew Liu)
@Tam Nguyen and @Hamza_tariq showing the proof of Cydia running on their iPhone and iPod tested this method. Do remember that this method requires some SSH Skills. If you don't know about it, then don't do it.
Below is the video proof of Cydia on iOS 6b1 by @Tam Nguyen.
Video:
Do share your experience with us about Cydia on iOS 6b1. Do let us know about how many of you have succeeded installing Cydia on iOS 6b1.