The rumored 7.85-inch iPad is actually now in form, Apple this morning has sent invites for October 23 media event named 'We've got a little more to show you'. This is the fourth event of this year by Apple and most probably the last one. Looking at the leading tablet producing company after Apple, Samsung has produced many tablets in the market running Google's Android OS and people most likely love the phablets actually so an iPad Mini will be an optimized move by Apple. As per the leak, Apple will be producing 24 models of an iPad mini with two, different colors either black/black and slate or white/white and silver.
The iPad Mini will be featuring all-new Lightning dock, Retina Display, front and rear camera but most cheering case is that the iPad Mini is expected to be released with an 8GB of memory. This new small sized iPad Mini will be the first iPad to have such small capacity. The news regarding the iPad Mini lower Capacity model Arrived from Apple Insider who claims to have hands on the internal directory of the upcoming 24 iPad Mini Models. The 24 Models of the iPad Mini are of WI-FI + 3G and 4G LTE.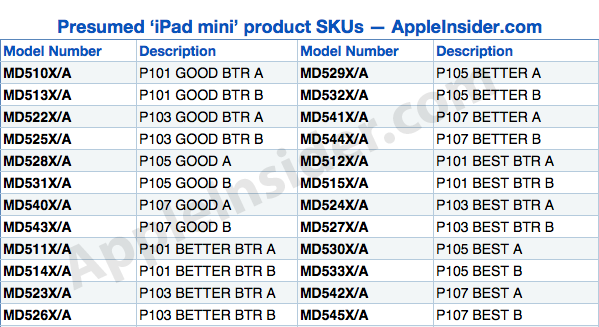 The directory above claims many codes and variants, yet the models are named as P101, P103, P105 and P107. These are the four models retaining the memory of the device. "A" and "B" two variants most probably are referring the colors of the device. More wisely three terms are used "Good", "Better" and "Best" which may be having a reference of either Wi-Fi, 3G and 4G LTE models. That's all about the iPad Mini, which is yet leaked until now. However, sources have confirmed the price of a 8GB iPad Mini to be priced lower than of the iPod Touch 5. The iPod Touch 5 with 32GB Capacity costs $299 and the iPad Mini of 8GB Capacity is rumored/semi-confirmed to be priced at $249.
The launch of the iPad Mini can put the sales of the iPod Touch 5 in great danger because people will tend to buy the iPad Mini more than the iPod Touch 5. The iPad Mini will be carrying a 7.85-inch screen with a lower capacity and the iPod Touch 5 Carries a 4-inch screen, greater capacity, and a higher price.