Whenever Apple releases any new iOS version, they are challenged with many strange and irritating bugs. Sometime those bugs lead to privacy concerns of the users. The unused release of iOS 5 alongside its continuous updates fixed some of the important bugs reported to Apple. Undoubtedly, Apple had added over 200+ features in their major iOS update of iOS 5, and they also introduced a fresh feature in iOS 5 by which a person can capture photos from the lock screen. This awesome feature was made permanent on the lock screen in the update of iOS 5.1, so users don't have to double press the home button twice to get the camera button App and then proceed on.
Somehow this awesome feature is a great threat to your privacy regarding your Photos, Videos, contacts, and all of your personal data present on your iDevice. This bug was discovered by a Canadian Tech consultant, Ade Barkah in iOS 5.0.1. We expected that Apple had fixed this bug in iOS 5.1 and user's data is safe. We got our hands onto iOS 5.1 and recalled this previous bug to see if it still exits or not. So, we took two iPhones. One was iPhone 4 and the other one was iPhone 4S. iPhone 4S was on iOS 5.0.1 and iPhone 4 was on iOS 5.1. First we tested the same procedure on iPhone 4S running iOS 5.0.1 and then the same procedure on iPhone 4 running iOS 5.1. The results were amazing. The bug is already present in iOS 5.0.1 and where we expected a fix in iOS 5.1, unfortunately the bug is still present in iOS 5.1.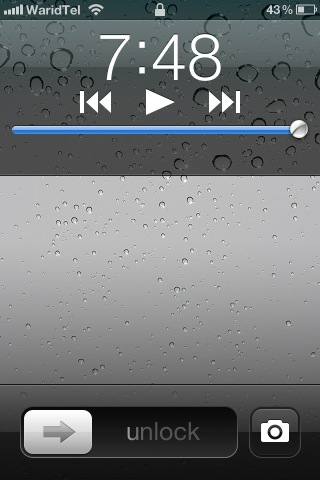 It goes like this. In iOS 5.1, you lock the screen, and then slide the camera button upside, the camera will be opened. On the bottom left you can see the camera roll. Press that and you will be in the camera roll of that iPhone. Once you are in, just press the home button once and you will land on the home screen of the iPhone. Where you can dial calls, see contacts, and do everything.
We have done a small video on it to show you how this bug works.
Video:
This is strange and questionable that why this hasn't been fixed yet. This is a great threat to your personal data. This bug was said to be occurring due to some software glitch and difference in Time Zone. When you are traveling and connect to a PC that is few hours back from the time you have taken the photo.
We don't know when Apple will fix this issue for its users. If you want to be protected from this issue, you should keep a pass-code on your iDevice in order to be protected from this bug. This doesn't works on a pass-code protected iDevice.