The new iPad is the new iPad. The new iPad just revealed by Timothy Cook at San Francisco's Apple special event. Alongside  the new iPad, Apple revealed the 2012 Apple TV. The new iPad has total of new features. Starting from the Retina display, its amazing. Its 2048 by 1536 resolution display is magnificent. After that we have the all new iSight camera of 5 Mega pixel sensor more over transforming from the iPhone 4S, the new iPad has integrated 5 lens. The major influence is of te 1080p video recording in the iPad which is amazing than any tablet.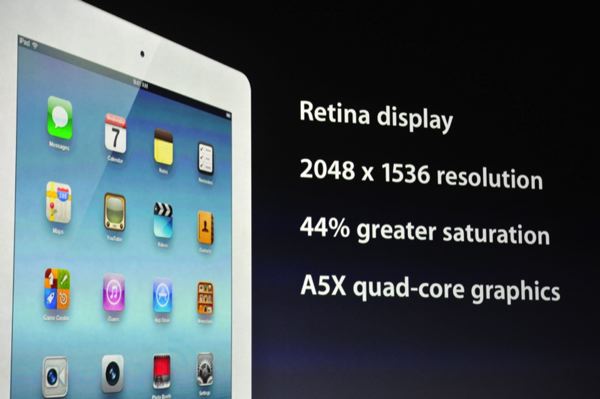 The new iPad also has the fourth wireless technology, 10 times faster than 3G, the 4G LTE. By the 4G LTE modem inbuilt in the new iPad you can get up to 72 mega bytes per second of the downloading speed and more.
The all new Apples A5X chip does it all above on the all new features, the A5X chip is specially designed for quad core graphics, retina display and complete gaming reliability.
The new iPad will be available from March 16th, the pre orderings have started.