iLab today came up with some real time 3D comparison of the iPhone 5 with the preceding iPhone 4S and Samsung's Flagship called Samsung Galaxy S III. The videos have been made in collaboration with 3D-labs. This new 3D comparison is totally based on the leaked parts of the iPhone 5 until now. We have seen many of the rumored leaked parts of the iPhone 5 suggesting a 4-inch screen with some changes in the design. We didn't notice any major changes in the design of the iPhone 5, as it should be. The leaked parts just confirmed the previous rumors regarding the iPhone 5 that it will get an 8-pin dock connector and a reallocated head phone jack.
These things are not new in the market. We have hearing about all of these since preceding months. The confirmation that we have so far is about the 4-inch screen of the iPhone 5 so far. Rest we cannot count on because anything can change at the last minute. In other words, we don't really know about what the Tech Giant is cooking in the house. All we smell is an addition of a new family member in the preceding family.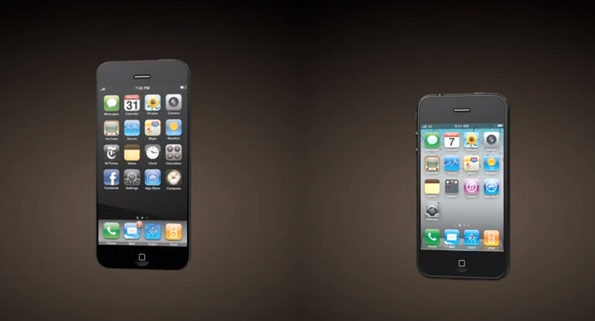 Following all those rumors, iLab has made a great video rendering of the iPhone 5 with the help of all the leaked parts, compared the compiled part with the preceding iPhone 4S, and newly launched Samsung Galaxy S III. Lets head over to the video of the iPhone 4S vs iPhone 5 first.
iPhone 5 iPhone 4S Comparison
As you can see, in the video above that, the iPhone 5 is featured with a 4-inch large display and the iPhone 4S is having the same traditional 3.5-inch display. However, the video above is not very prominent in the case of iPhone 4S. They have shown iPhone 4S with an 8-pin connector and iPhone 5 with a large connector. The design of the iPhone 4S is very different from the real one.
Now lets move on to the Samsung Galaxy S III and iPhone 5 comparison.
Samsung Galaxy S III iPhone 5 Comparison
After seeing the above comparison of iPhone 5 with Samsung Galaxy S III, we can clearly see that the iPhone 5 screen is smaller than of the Galaxy S III because Galaxy S III got a 4.8-inch screen and the rumored iPhone 5 screen size is 4-inch. The Galaxy S III has been released and the iPhone 5 is yet to be announced.
After seeing the above video, we cannot give you any word on the size of the iPhone 5 and Samsung Galaxy S III because it is not prominent. The real difference would be done when the iPhone 5 debuts in the market.
Now you have to be the judge for the above posted videos and let us know about which rendering you liked the most.