Life Proof the first ever Water Proof, Heat Proof, Shock Proof, and Dust Proof case for an iPhone are now available for sale at AT&T outlets around the globe. Today the company announced great news via their Twitter that their cases were at present attainable for sale at all AT&T Outlets around the globe. At first, these cases were available with Life Proof and Best Buy. Now they are attainable on all the AT&T retail stores. Life Proof comes in four colors, which are White, Black, Pink, and Purple out of which only Black and White color cases are available for sale at AT&T outlets.
Life Proof is the first slim and sleek designed case for iPhone 4/4S which allows a user to have four way protections in one case. It also allows a person to use his/her iPhone fully under the case. It doesn't matter whether he is in water, snow or anywhere. This case is really awesome for people who like to stay connected in their busy life with their loved ones. No matter where they are. They can be in a hottest area of the world, or they can be in the coldest place of the world or at any rocky place or at some desert. The Life Proof case allows you to stay safe at the damage you get when your iPhone is fallen in the water or on the floor. If your iPhone gets a water treatment, Apple rejects to claim it into warranty, and you are ruined.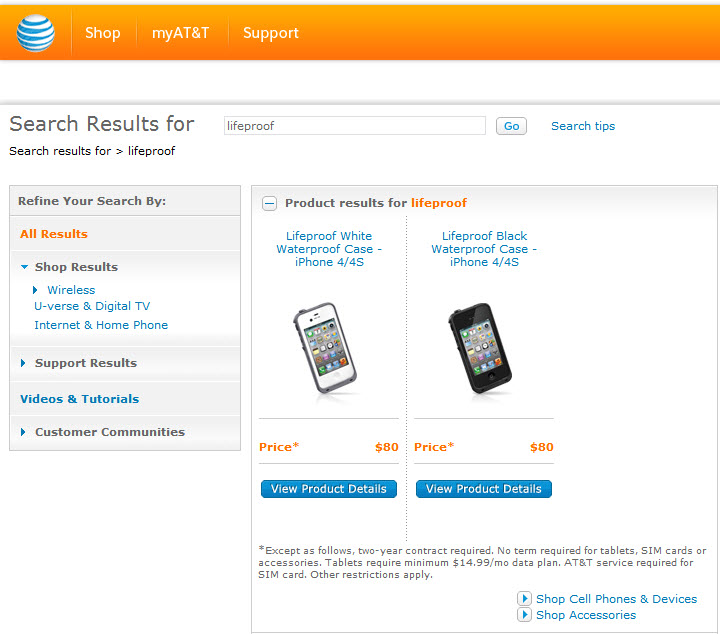 You can see the demo of the Life Proof in action below:
Video:
I am also a Life Proofer, Are you? If not then head over to AT&T's website and buy one for yourself. The price of the case is $80.