We all know that the Untethered Jailbreak for iOS 5.1 is being worked on by @Pod2g actively and he is trying to make the Jailbreak as smooth as possible. Till now no ETA is given by @Pod2g regarding the Jailbreak of iOS 5.1, but we are seeing something really interesting thing on Facebook. After the untethered Jailbreak of iOS 5.0.1 delivered by @Pod2g and the Dream-Team made him more famous than before that some unknown person made a Facebook page with the name of @Pod2g and claims to be the real one. The interesting thing is that, 5,511 people like that page and no one ever inquired about the page, whether it is really official or not.
Today after keeping the status on the Facebook Page that "almost done: might have increased the hope of many of the people on that page unaware that the fan page is fake and not made by @pod2g himself.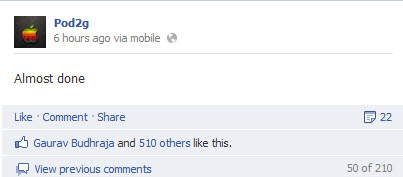 Interestingly, @pod2g on his official Twitter page announced that the page on Facebook is fake and it is not made by him.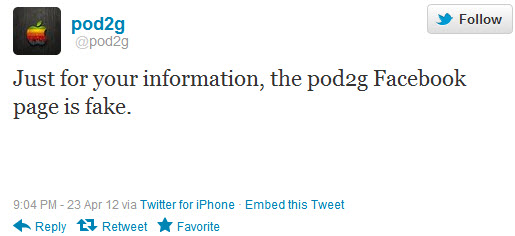 So, those of you have joined the so called Fan Page of @Pod2g on Facebook should unjoin and report it as spam/ fake because it is misleading every one.  Just follow @Pod2g on Twitter to stay up to date with the latest information regarding the Jailbreak for iOS 5.1 and stay away from all of these fake pages.