This might sound strange that in this post PC era, we have got more than 600,000 MACs, which are infected and controlled by Flashback Trojan's The number of infected MACs has increased from 550,000 to 600,000 in no time. This piece of information was founded by a Russian anti-virus vendor, Doctor Web. They conducted a research on the spreading of the Trojan BackDoor.Flashback that affects the computers running OS X.
Systems get infected with BackDoor.Flashback.39 after a user is redirected to a bogus site from a compromised resource or via a traffic distribution system. JavaScript code is used to load a Java-applet containing an exploit. Doctor Web's virus analysts discovered a large number of web-sites containing the code.
We are living in a post PC era where anything can happen at any time and without a reason.  The evolution of PC era was said to be safe some unknown time. Like this till few years ago MAC, the finest creation made by Apple was said to be free from all the viruses, malwares, and everything. It was also believed that to make something bad for a MAC, you need some high skills, and the procedure was very difficult. On the other hand, to make a virus for PC was really easy. So, PC's got high number of viruses and many of the PC users got affected due to revolution of Trojan Viruses. Now nothing is safe. Not even the OS X versions running on Apple Computers are safe. Few months back the evolution of Viruses got increased in OS X, and we came across many new viruses like Flash Virus, Malwares, and many more for OS X. After the viruses was confirmed; Apple pushed out updates regularly to encounter these viruses and Malwares.
Deviation of these viruses have affected over more than half-million Macs around the globe. The highest number of Macs that were affected are said to be present in Cupertino where Apple's Head Quarter is present. The number of infected Macs in U.S.A is said to be 57% whereas the 20% infected Macs are said to be in Canada and remaining 33% is said to be in other cities.
Over 550 000, infected machines running Mac OS X have been a part of the botnet on April 4. These only comprise a segment of the botnet set up by means of the particular BackDoor.Flashback modification. Most infected computers reside in the United States (56.6%, or 303,449 infected hosts), Canada comes second (19.8%, or 106,379 infected computers), the third place is taken by the United Kingdom (12.8% or 68,577 cases of infection) and Australia with 6.1% (32,527 infected hosts) is the fourth.
Below you can see the detailed map with the location and percentage of the infected MACs around the globe.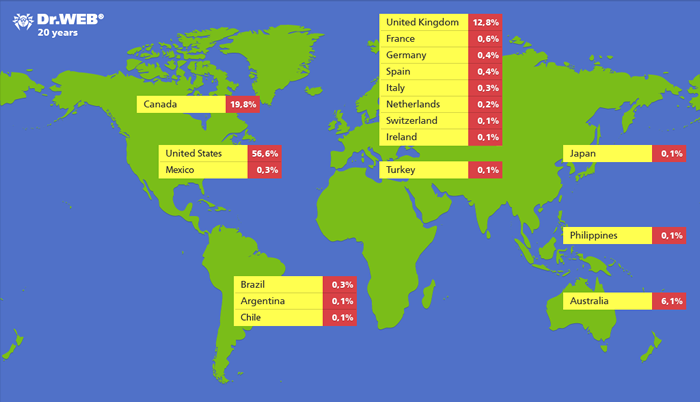 Now you must be wondering how these Botnet thing works. We have collected some information on this Botnet from Wikipedia for your information. We got our hands on a picture posted on Wikipedia, which explains clearly about how this thing works. We believe that a picture is worth a thousand words.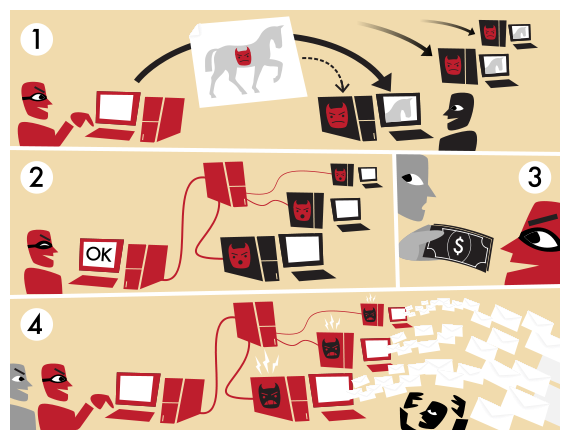 The method is quite simple. To make sure that you don't get affected from this Flashback Trojan, we would suggest you that check for updates on your OS X from time to time and stay away from the links of which you are not aware of. THese days these type of links are on top which help the hackers to inject the viruses in your system.