Few moments back, @Pod2g, the member of the Chronic-Dev Team announced on his Twitter account that he has found 2 major vulnerabilities.
1 kernel land
2. Root Land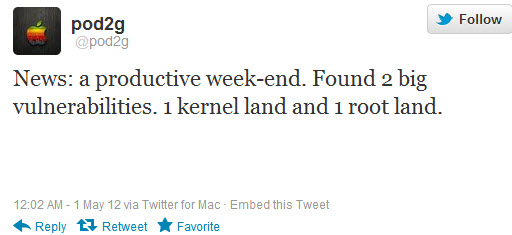 News: a productive week-end. Found 2 big vulnerabilities. 1 kernel land and 1 root land.
These are the two vulnerabilities found by @pod2g that can possibly lead to permanent A5 and A5X jailbreak. This means that the A5 and A5X processors might be PWNED like A4 processor from hardware. In other words the A5 and A5X processors can be exploited with the vulnerabilities that @pod2g found this week. If this is the scenario then this is really a great news for all the owners of iPad, iPad 2, and iPhone 4S waiting for the jailbreak for them from long.
Recently @pod2g putted on a poll regarding the release of the iOS 5.1 or wait till iOS 6. The poll is going on the verge and don't miss out to vote for the best option you want.
We will update you as soon as we hear anything new on this topic.