A new scam has entered in the market of Cyber World. The name of the scam is Samsung Galaxy S4 Facebook Giveaway.
After the unveiling of Galaxy S4 on March 14 by Samsung, Cyber Criminals have a way to hack Facebook ids and trap people into a fake give away. All credit goes to Samsung' Galaxy S4 that made the headlines on March 14 because of its new and unique features that Samsung has introduced in it. Samsung fans around the globe cannot wait to get their hands on the unreleased smart phone and on the other hand scammers on Facebook in the name of Galaxy S4 Give Away by Samsung are scamming the same fans.
Just imagine, one day you wake up, log on Facebook and see that Samsung has 5,000 units of Galaxy S4 in a give away, what will be your reaction? You will do everything to enter in the contest and make sure that you are the lucky one to get one unit out of 5,000 units available. How happy you would be after doing that without realizing that you are being scammed and you are putting your account at risk. By the end of the day, you would be happy that you participated in the contest of Samsung Galaxy S4 Giveaway on Facebook.
Anyhow, this is how the scam is growing on Facebook and according to a report from HackRead, about 20,000 people's have got affected by this scam.
The typical process in order for an individual to be "eligible" for the prize is typically as follows:
1. Like the photo.
2. Share the photo.
3. Comment with the text : " I love galaxy"
4.Enter Shipping info -> http://galaxys4.claimtheprize.net/ (open at you own risk, opening is not recommended)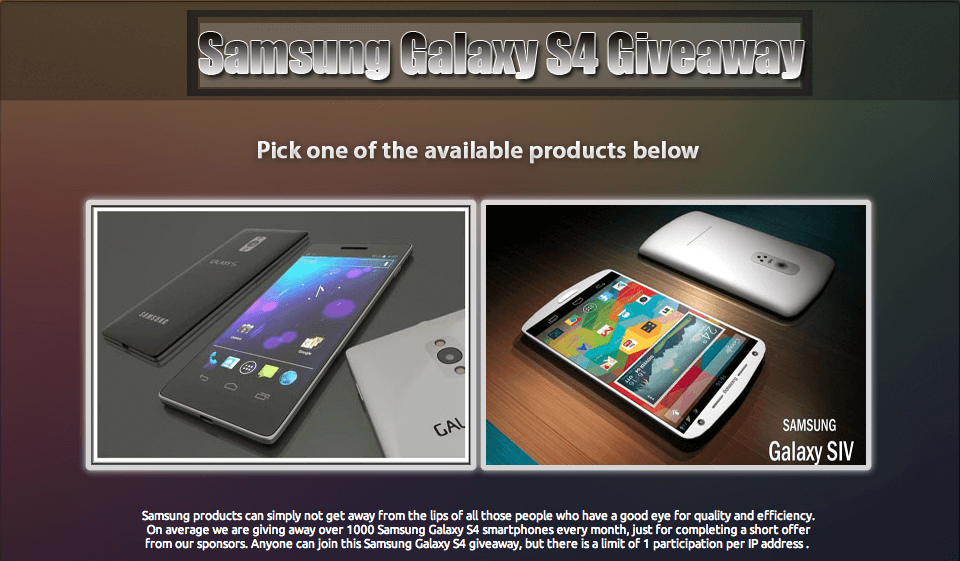 The best thing about this fake giveaway is that the cyber criminals are using alleged concept images of Galaxy S4, where as the original image of Galaxy S4 is as follows:
This fake giveaway of Samsung Galaxy S4 on Facebook by Samsung sounds very interesting because Samsung hasn't gone mad that it will spend $4.5 Million on the giveaway of latest Galaxy S Flagship rather than selling the Smart Phones Globally. All we need to say is that stay away from these sorts of giveaways that are not verified or are using fake images of the smart phone. Once in a lifetime use your brain to sort out these sorts of giveaways and don't start jumping after seeing these sorts of giveaways on Facebook.