In the preceding week, Samsung in Collaboration with Google announced the copy of MAC Book Air with a lower price called Chrome Book. This new ChromeBook by Samsung features a 0.5-inches smaller screen with a 1366X768-pixel resolution. The weight of the chormebook is less than 2.5 pounds, but it got the same battery life of 6.5 hours. The major difference that is spotted in this edition of ChromeBook is of the Samsung's Exynos 5250 dual-core processor with a Cortex-A15 Chip that is capable of running 1080p Videos without any hustle.
The new Chromebook is a great computer at any price, but it's an incredible computer at $249. It's one of the lightest laptops on the market. You can easily carry it around all day—it's 2.5 pounds, a mere 0.8 inches thick, with more than 6 hours of battery life for the typical user. And with 100 GB of free storage on Google Drive*, you can get to all of your stuff anytime, anywhere.

Even with its compact design, it's packed with performance—it boots up in less than 10 seconds and resumes instantly. High-resolution videos (in 1080p) are beautiful to watch and when using the touchpad, you'll notice smooth scrolling due to a hardware-accelerated user interface. And as you'd expect from a Chromebook, it's easy to share with others. Everyone—mom, dad, grandparents, tech lovers, tech haters—can have separate accounts where all of their stuff is kept safe. Finally, if you're an active Google user of products like Gmail, Drive, Search, Maps, YouTube, Play or Google+ Hangouts, everything just works seamlessly.
The price at which Samsung has placed its ChromeBook is the best competitive price in comparison with Apple's MAC Book Air. The MAC Book Air by Apple costs $999 and this ChromeBook by Samsung costs $249. The price of the ChromeBook is relatively very competitive and is about quarter of the price of the MAC Book Air. The amazing thing about the ChromeBook is that people who buy it get 100GB of space online to store all of the data.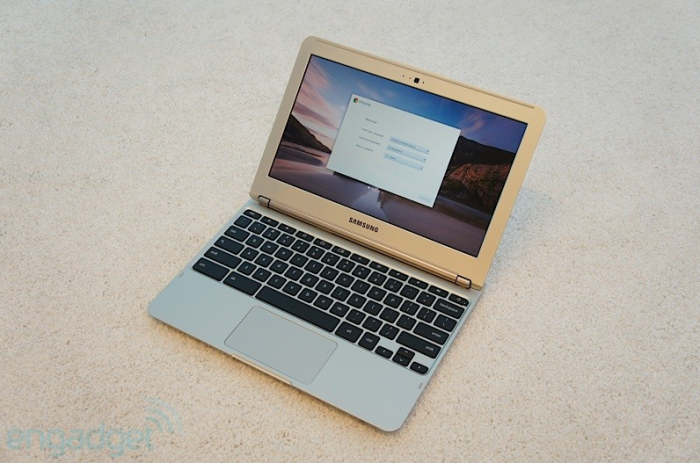 This Samsung ChromeBook seems to be best for the users who are not power users of the internet and want a Computer for their personal use or for some small task.
Video:
via (9to5google)