The last Media Event to be done by Apple is just around the corner and is about a day away. This year Apple will be doing four Media Events after the upcoming Media Event on which the iPad Mini would be announced. This Media Event would be the second Media Event that would be dedicated to the launch of iPad Series. The first Media Event that Apple did was back in February when Apple announced the New iPad. Following that Media Event, WWDC 12 took place in June, then the iPhone 5 Media Event took Place in September, and now is the time for the iPad Mini/Air Media Event to be held on October 23.
Apple teased the iPad Mini Media Event invites by saying, "We Have got a Little More to Show you", in which the expectations for the iPad Mini were and are high. Other than the iPad Mini, refreshment of MAC lineups is also expected. After these things are done, the Media Event doesn't ends. There is one more thing that Apple's iTunes Leaked and no one was expecting that thing to come on the Media Event or never thought of that update would be arriving.
The thing that was leaked by French iTunes Store is an update of iBooks 3.0.  We all are using the old version of iBooks 2.0, where as Apple is planning to beef up the old version with the new one that is iBooks 3.0. This amazing piece of information regarding iBooks 3.0 was leaked by iGen, a French Website that discovered the listing of iBooks 3.0 on a French Comic available in the iTunes for download.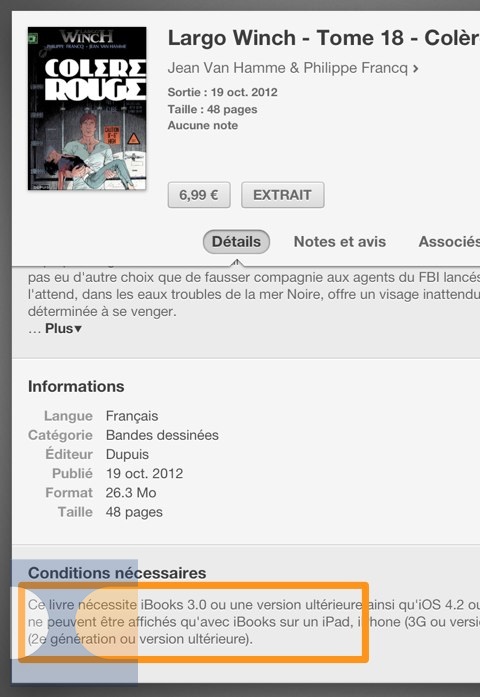 This great hint by Apple in the French iTunes regarding the iBooks 3.0 Update makes some sense. The iPad Mini is rumored to have a 7.85-inch Retina Display, which will be used mainly for iBooks in our opinion. This low priced iPad Mini would be released to compete in the small sized tablet market. Therefore, an update to iBooks 3.0 is mandatory because small sized tablet market is mainly focusing on the E-Books Reading and small works that a person can do with the help of a handy tablet.
However, the update of iBooks 3.0 will purely focus on the improvements that might have been made for the iPad Mini compatibility. It is very early to say anything about the iPad Mini or the iBooks 3.0 update.
Just wait till October 23 and you will come to know about that little more thing.