Following the preceding reports of Samsung Galaxy S4 Release date and specifications that were leaked back on November 17 were rejected by Samsung stating that the Korean company has no plans on releasing any new Samsung Flagship. The company already released Samsung Galaxy S3, a new member of Galaxy S Series back in May. Following the release of the iPhone 5 are Samsung Galaxy S3, the Korean company released a Mini version of Galaxy S3 that is called Galaxy S3 Mini. This newly introduced Samsung Galaxy S3 Mini few months are Galaxy S3 was a remarkable release to compete with the iPhone 5 because this Mini version was packed with the same features and specs that were introduced in Galaxy S3.
The only difference found in this Galaxy S3 Mini was of the screen size that was reduced from 4.8-inch to 4.0-inch and the resolution of the display that was decreased as well. Other than these two changes, it got no major over haul. Over here, many of you would be wondering about why did Samsung release a Mini version of the Galaxy S3. The complete details are present here for the answer. Now coming towards the forth coming Samsung Galaxy S4 that is high on the stake these days in the world of Internet and Rumors. The rumors are suggesting that Galaxy S4 might arrive at C.E.S 2013, where as Samsung has denied the rumors stating that they have no plans on releasing any new Smart Phone Line up so early. The company has already released two lineups of Galaxy S series in one year.
If the rejection of the rumors by the Korean company is believed to be true, then why did a device named GT-I9400 appeared on Nenamark 2 Benchmark test results?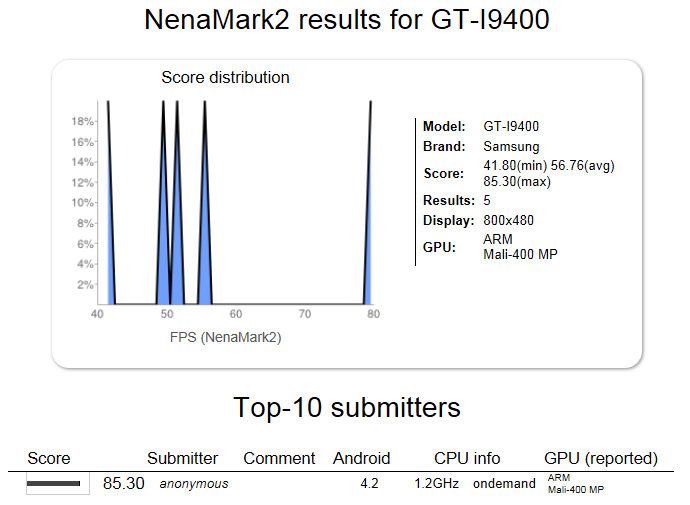 Above shown are the unverified results of Nenamark 2 benchmark on which an unknown device with the name of GT-I9400 appeared from nowhere with Android 4.2 version, with the lowest resolution of 480X800, and a dual core processor. After seeing the details of resolution and processor, we can clearly declare this Nenamark 2 benchmark results as fake because Samsung wont be putting in a dual processor and such a low resolution in its forthcoming smart phone line up. We can say that Samsung has started to test the OS version on its upcoming Smart Phone internally with limited number of developers to see how the Android OS 4.2 Jelly Bean performs on Galaxy S4.
If the forthcoming Galaxy S Smart Phone is GT-I9400, then we can partially confirm that the release of Galaxy S4 will be ready to launch in May 2013 because GT-I9300 (Galaxy S3) appeared for software testing in December 2011. Therefore, we can expect the next member of the Galaxy S to be announced at C.E.S 2013 with initial sales to take place in May.
While we are heavily expecting the arrival of Samsung Galaxy S4, SamMobile notes that the number "4" is bad luck in South Korea. Therefore, we cannot be so sure about the name of the upcoming Galaxy S Smart Phone. For the time being we can name if Samsung Galaxy S4 or Samsung Galaxy S X.