The long-term relationship of Google's Android with Samsung will be ending some time soon. In past, Android has been the center of attraction for every Samsung Smart Phone and every one who wanted to have something different always opted to go for Android based Samsung Smart Phones. Android being made by Google is indeed a perfect match for Samsung as being a tech giant because it allowed Samsung to think out of the box and do changes in the Smart Phone that a user wanted to do. In other words, we can say that Android is more customizable than any other OS present in the Market.
Being an Open Source OS Android grabs the attention of all the developers around the world to develop on it to deliver a classy experience to a user, which he/she never thought of. However, as of now the war between Mobile OS is getting tougher day by day. In order to compete with other OS's you need to be more innovative and secure because to change a Smart Phone these days isn't a tough job. Any one can switch to any other Smart Phone in no time. Therefore, to maintain a better customer experience for an OS, the Smart Phone vendor must make/design the OS in a way that one does not shifts to any other Smart Phone.
Keeping this thing in consideration, Samsung has some plans for the future of OS. Despite the fact that Samsung and Android have ruled the Market for several years, but now Samsung is looking forward to have complete authority over an OS that it can control solely. Hence, Samsung has planned to make its own OS called Tizen. This OS Tizen will be a cross of Linux and Android.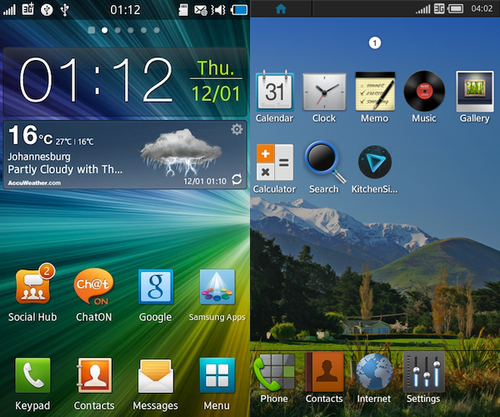 (Tizen OS)
Initially Samsung has planned to roll out few Smart Phones running this Tizen OS at M.W.C 2013 (Mobile World Congress). If the Smart Phones show some success with Tizen OS, the company will further release the Tizen OS Equipped Smart Phones in the eastern markets to see the feedback of the newly introduced OS. After releasing the Tizen equipped Smart Phones in Eastern Markets, Samsung will further expand the Tizen OS around the globe depending on the Feedback they get from Beta testing. If the Tizen OS is a success, then Samsung will move away from Android to Tizen OS and will work on it to make it better in every aspect.
If everything goes well and Samsung gets a positive feedback on Tizen, then we can expect another competitor of Android in the market by Samsung. Tizen OS will for sure outrun Android because Samsung will switch its all Devices to Tizen in 2013.