SIRI, the personal assistant on iPhone 4S revealed something new today. Some one asked SIRI about which languages can she Speak. SIRI replied that she could speak German, French, English and Japanese. The strange thing was Japanese. Apple hasn't made the support for Japanese Language yet. Luckily SIRI can also speak Japanese. SIRI cannot speak Japanese completely yet but she was able to confirm that she can speak Japanese also. She cannot even understand Japanese yet.
Few weeks back we came across a rumor that Apple is planning to extend the language support in SIRI for many new languages like Chinese, Japanese, Korean, Italian, and Spanish. Apple also promised hat they would be extending the support of SIRI in the above stated languages in 2012.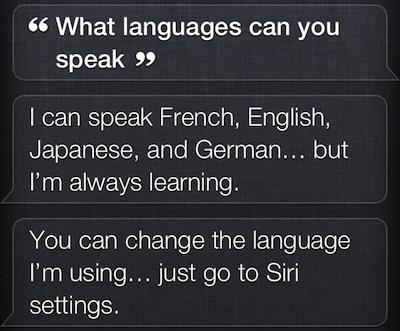 Below is a piece of FAQ's of SIRI posted on Apple's website proving that the new languages support will come in 2012. This means that Apple has started to roll out the beta version of the following languages internally or so.
Language Support and Availability

Siri works exclusively on iPhone 4S. Siri understands and can speak the following languages:

English (United States, United Kingdom, Australia)
French (France)
German (Germany)

In 2012, Siri will support additional languages, including Japanese, Chinese, Korean, Italian, and Spanish.
Somehow SIRI got so happy that she leaked the upcoming language support and indicated that Apple must be working on the above language supports. We can expect the support of above stated languages in March with the release of iPad 3 and iOS 5.1.
This leak by SIRI might have made many of the Japanese fans really excited about the support of their native language will be next.
[9to5mac]