The tech giant company Apple might be celebrating after having a victory over Samsung in the recent law suit. After loosing from Apple, Samsung had to pay Apple more than $1 Billion for the infringement of Patents that Samsung made. Samsung might have copied Apple in many ways, but Apple also copied some one. Apple didn't copy the whole design; indeed, they copied the most famous and most used feature called Slide to Unlock. This feature is about ages old. If we estimate the time span, expect the time span to be about 15-30 years old approximately. This feature was never used in any cellphone until 2007, when Steve Jobs (Late) C.E.O of Apple took the stage to announce the first iPhone 2G with a touch screen and slide to unlock feature.
At that time we only knew that iPhone 2G has this feature, although this feature was previously used in a car called Bolan made by Suzuki. The name Suzuki might sound very familiar because it the same company that make bikes and cars. This Bolan car is the product of Suzuki Company. The company first introduced this Slide to Unlock feature in its Bolan that was manufactured somewhere in 1991 and changed with the passage of time. Those of you are aware of the name of the car and company would know more perfectly, about what we are talking.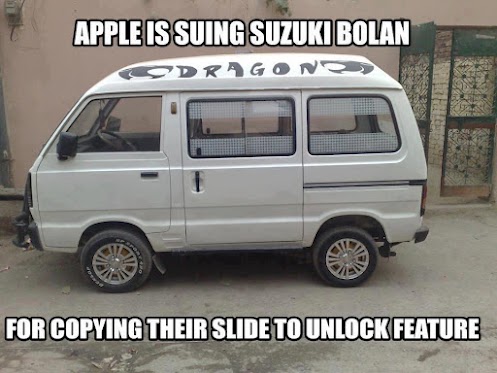 Above is the image of the Suzuki Bolan showing the side pose of the car. This side pose of the card is not done for modeling, though the back doors of the Suzuki Bolan are opened by Sliding out. We couldn't get hold of any video or picture of this feature in Bolan in action. Other wise we would love to share with you.
Those of you are familiar with the car would know more perfectly about what we are talking.
Therefore, Apple get ready to handle another lawsuit over Slide to Unlock feature.
Please note that this post is only for humor purpose and there is not such thing going to happen or is in reality. We made this post to bring in something new. We know that every one is tired of the emerging iPhone 5 rumors and news, so we thought to bring in something new and to pick on Apple.