If you have ever bought an iPad 2, you must be aware of the price tag of it. The normal iPad 2 costs about $500 that is only WIFI model. Rest is above $500, depending on the model you want to buy. But one iTheif is not willing to pay the price for the iPad 2's. So the iTheif simply checks out by taking the iPad 2's in a bag with the perfect technique known as stealing. The iTheif was caught on video surveillance cameras installed in different giant retail stores across many different cities located in North Texas, where the iTheif stole the iPad 2's. The amazing thing is that the iTheif is a woman of age about 35-40 approx.
According to the police, this woman has stolen about 100 or $57,000 worth iPad 2's. The woman has affected 36 cities in North Texas out of which 28 iPad 2's were stole from Wal-Mart, the giant retailer and remaining 8 from the Target Store. She has stolen about 100 iPad 2's from 36 cities.
According to WFAA,
She usually strikes in the early hours of the morning. Police say she does the same thing every time, leaving groceries at the counter and walking out of the store with two or three iPads.

Her latest hit came last week at a Sherman Wal-Mart. The surveillance video shows how it happened.
This is how the theft takes place. The woman fills up her shopping cart and goes out for a checkout on counter. Then she says at the counter that she needs to go to electronic section to take three iPad 2's leaving the grocery behind for packaging. Then she comes back to the counter and places the three iPad 2's for check out, the clerk on the counter scans the three iPad 2's for the check out and starts to scan the rest of the items. In the meantime, the lady grabs the bag in which the iPad 2's are placed and put them in the toed bag that she had brought with her. Then she tells the cashier that she is going to get the money back from her car and never turns back.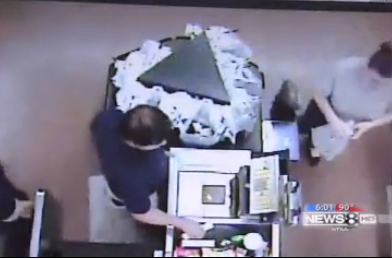 Amazingly, the same lady is wanted in different crimes all over North Texas and Oklahoma, from Ardmore to the north, to Sherman and Collin County cities like Plano, McKinney and Allen. She has also struck in Rockwall and Terrell, in Lewisville and Denton and in Cedar Hill and Corsicana.
If you know about this woman or have came across her, so you are requested to contact Detective Rob Ballew with the Criminal Investigation Division of the Sherman Police Department at 903-892-7246 to help them out to hunt down this woman and stop the game that she has started.