Few minutes back, @pod2g the person behind the Untethered Jailbreak for iPad 2 and iPhone 4S with Dream-Team announced on his Twitter account that he has an Untethered Jailbreak running on his iPhone 4 on iOS 5.1.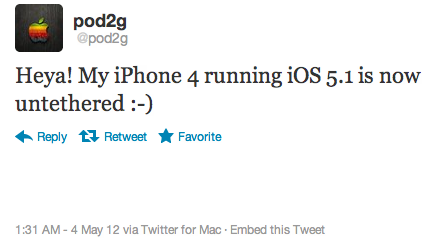 Heya! My iPhone 4 running iOS 5.1 is now untethered :-)
It seems that the Untethered Jailbreak for iPhone 4 on iOS 5.1 is ready and the stability testing is in progress by the team. Previously we reported you about the two major vulnerabilities that @pod2g found and those can lead to bootrom level exploit for the iPad 3, iPad and iPhone 4S. This news about the vulnerabilities is no yet confirmed but the news about the Untethered Jialbreak is almost confirmed because @pod2g Tweeted about the untethered Jailbreak and will be releasing the jailbreak as soon as the voting ends.
Yes! @Pod2g conducted a survey by adding a poll on his blog for the iOS 5.1 Untethered Jailbreak release. He asked the public, whether to release the Untethered Jailbreak for iOS 5.1 and waste the exploits or wait for the iOS 6 and use the same exploits on them to see whether they work or not. The poll was said to be closing in 3 days and now it seems that the poll for the Untethered Jailbreak has been closed. The most option voted is for the Untethered Jailbreak for iOS 5.1.

This means that Untethered Jailbreak for iOS 5.1 must be in final stages and some internal testing might be going on to see for the stability of the Untethered Jailbreak. Still we cannot provide you with any eta for the Untethered Jailbreak.
Till then let us know about how excited are you after hearing this great news.jailb