The New iPhone battery leaked many times before the expected official launch. The first time the new iPhone battery surfaced the Internet was told by 9to5mac. The battery was said to be 10% greater than iPhone 4S and 20% greater than the iPhone 4. This Tuesday, iResq the iPhone Repair shop obtained the new iPhone battery pack and compared them with the iPhone 4S. They putted the new iPhone 5 battery in the alleged backend shell that was leaked few weeks back with few assembled parts like dock and alleged motherboard. After putting in the battery in the rear shell, iResq then compared it with the iPhone 4S.
Continuing with the previous report of the new iPhone battery pack is of 3.5v that is 0.1 greater in volts than the previous iPhone 4S battery. The battery size is the same as of the iPhone 4S one and the height of the new iPhone battery is more than the iPhone 4S battery because the new iPhone is going to be taller than the iPhone 4S. The new iPhone is expected to be 15% thinner than the iPhone 4S.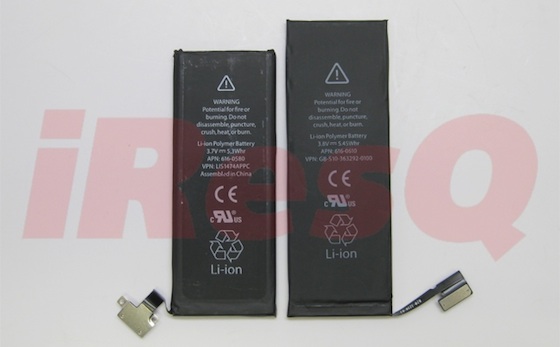 Now lets talk about the key differences between both of the batteries.
Key differences between the iPhone 5 and the iPhone 4S battery:

1. The iPhone 5's battery is slightly less than a half an inch taller than the iPhone 4S. The thickness appears to be identical. UPDATE – Although, the thickness appears to be the same, the iPhone 5 battery is ever so slightly thinner. With an eye test, the iPhone 5 battery is maybe 1-2mm thinner.

2. The iPhone 5 is 3.8V/5.45Whr while the iPhone 4S is 3.7V/5.3Whr.

3. The connector on the iPhone 5 is not only different, it is placed on the opposite side of the battery to accomodiate its new position within the iPhone.

4. UPDATE – The iPhone 5 battery weighs approximately .80oz. The iPhone 4S battery is approximately .96oz
Almost they both have the same difference that we told you about earlier in this report. The only new differences that we can spot and were missing from the previous report are the thinness of the new iPhone battery by 1-2mm, the weight of the new iPhone battery is .800oz, and the connecting position of the new iPhone battery is different. The position of the connection has been changed to the opposite direction as compared to iPhone 4S. Rest everything is same.
We will be seeing the final version of the new iPhone on September 12.