The rumors and leaks regarding the iPhone 5 are living on the edge these days. Every single day we are hearing about a new rumor and a new leak regarding the iPhone 5. Previously we have seen many internal components leaked of the iPhone 5 suggesting a new thinner design than the iPhone 4S. The internal components also showed that the iPhone 5 would feature NFC Technology and 4G LTE Radio. These tings were rumored from a long time. After the internal components leak, we came across the outer design leaks that were the main front frame, back aluminum frame, and the SIM Card frame.
Today, we got one more new leak in the pipeline of iPhone 5. Today's leak is one of the most important part of the iPhone 5. The part is of the power source called "Battery". The Battery of the iPhone 5 was leaked today. This news comes from the reliable sources of 9to5mac with the help of Sony Dickson; the iOS Expert pointing out that the battery of the iPhone 5 is of 3.8v. The batteries are of more capacity than of the previous version of the iPhone 4/4S. This new leaked battery features a power of 1440mAh. That is about 10% greater than iPhone 4S and 20% greater than iPhone 4. The battery volume in iPhone 4S is 1430mAh and in iPhone 4 1420mAh. The volumes of the battery pack were examined by iFixit.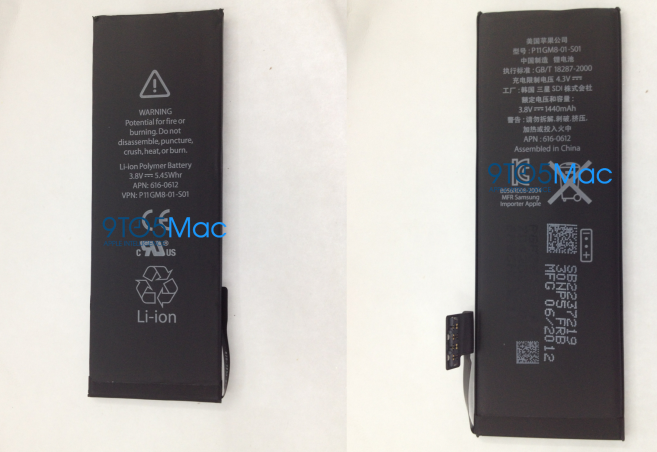 Amazingly, the battery pack image on the right side shows us the MFG (Manufacturing Date) of 06/12 that is June 2012. This MFG hints towards the iPhone fall launch.
Therefore, the watts-per-hour in the new battery has been increased from 5.25 and 5.3 to 5.45wHr. This increase in watts-per-hour is related to increase in the battery size and mAh.
This significant increase in the size of the battery makes the rumor about the 4G LTE more prominent. Apple might have increased the battery size because the 4G LTE requires more power to run or Apple increased the battery size to run more things with less power. Overall the battery is one of the most important that really matters in an iPhone or in any Phone. If the battery life is not good, despite the design or looks of the phone, the phone will fail to grab market. If we recall the iPhone 4S post launch, some battery issues occurred in the iPhone 4S suggesting a fault in the battery lineups. Fortunately, the issue was of the software that was resolved by Apple later on.
Moreover, the iPhone 5 announcement is set for September 12. We are only few weeks away from the launch.