Better late than never. This is what we can say for Apple and its investigation team because they were looking into a case of a Chinese Flight Attendant, who was shocked to death by an iPhone 4 while it was on charge. This incident took place in China, when a 23 years Old Chinese woman was talking on the phone while charging her iPhone 4 (mostly called iPhone 5 by many people on the internet) got shocked with a DC 220V. This DC 220v led her rest in peace.
Not long after this incident, a new incident was reported against the same iPhone 4 that led a 30 Years Old Chinese Man into Coma after getting shocked by a counterfeit charger while he was charging his iPhone 4. When the DC 220v shocked him, he shouted and his brother was nearby who saved his life by turning of the switch on the spot. If there was a delay in turning of the switch, he would have been resting in peace like the Chinese Flight Attendant.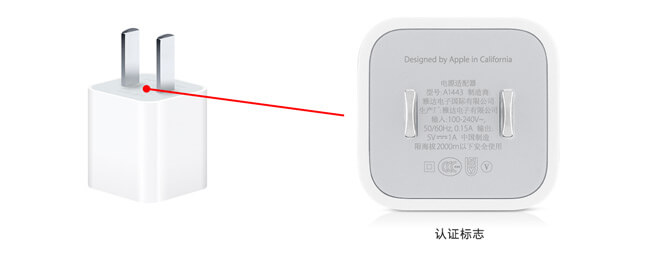 However, in the case of Chinese Flight Attendant, Apple and concerned authorities took an action to see the drawback or we can say that to see the main cause of this issue that lead to electrocution. Where as in the case of Chinese Man, the main cause was in front of every one and it was simple. The main cause was that he was using a counterfeit charger that led him to coma.
Hence, the case two of the Chinese Man was closed on the spot, where as case Apple was investigating one that was of the Chinese Woman. After few days of the incident, we reported about the Chinese Woman case that she was using a counterfeit charger that led to electrocution and the iPhone wasn't iPhone 5, instead it was the iPhone 4. We have made a detailed report present here.
As of today, Apple came up with a new webpage on their Chinese Store website pointing out the difference between Original and Counterfeit charger.
Apple always put the user's safety first, so all of our products are subject to stringent safety and reliability testing, and designed to meet government safety standards around the world, including for the iPhone and iPad USB power adapter.

This overview will help you identify genuine Apple USB power adapter. When you need to charge the iPhone or iPad, we recommend that you use the random standard USB power adapter and USB cable. These adapters and cables are also available separately from Apple and Apple Authorized Resellers.
In order to avoid future conflicts, electrocutions, and going into coma sort of situations, don't use counterfeit chargers. This is for your own safety. Try to use original product and be safe from everything. Using a counterfeit product may save you some bucks, but it may risk your life-like it did for these two innocent people.