Moments ago Apple release an iOS update for iPhone/iPod/iPad to fix the known Exchange Calendar bug that could result in increased network activity and reduced battery life. This update of iOS 6.1.2 was heavily expected to arrive later this week because Apple was working on a fix for this issue since last week. It was told by Apple that an update of iOS 6.1.2 would debut sometime before February 22 to fix this issue of exchange calendar caused in iOS 6.1.
Therefore today, promising update of iOS 6.1.2 with build number (10B146) arrived for iPhone/iPod/iPad. This new build of iOS 6.1.2 is available by an OTA update spacing 107MB, where as regular build takes a space of 700MB- 1GB for iPhone/iPod/iPad.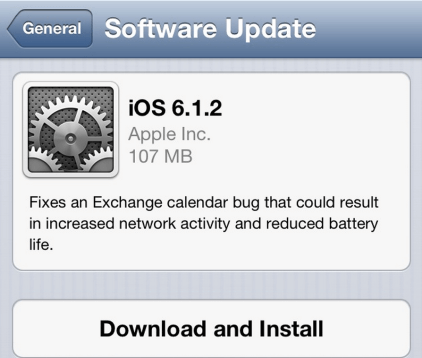 Fixes an Exchange calendar bug that could result in increased network activity and reduced battery life.
Other than the fix for exchange calendar bug, Apple also promised to fix the security vulnerability that was spotted by JailbreakNation few days back. However, that vulnerability doesn't seem to be fixed in this update because Apple hasn't described or stated about the fix for that issue in this build. We can expect the security vulnerability to be fixed in an upcoming iOS 6.1.3 update that will replace iOS 6.1.1. Apple has already seeded iOS 6.1.1 Beta 1 to Developers a week ago and we can assume the arrival of next beta would be done in the upcoming week as iOS 6.1.3.
As far as the Untethered Jailbreak is concerned, Apple hasn't patched it because it is a minor update and Apple released it to fix the issue Exchange Calendar only. At this moment, the status of Untethered Jailbreak would be broken on iOS 6.1.2 and we wont recommend any one to update to this latest iOS 6.1.2 because there will be no Untethered Jailbreak at the moment. All you need to do is just wait for some time or hours, so the Evad3rs can work on to fix the Evasi0n Untethered Jailbreak for iOS 6.1.2.