Get ready to skip your vacations for this summer because this summer is going to be the hottest one in the history of Tech World. This summer rivals will be going head to head to announce new products one after another and one rival would be announcing its most popular service across two famous platforms. These two platforms are iOS and Android. The rival is BlackBerry. Got any hint about what would be done by RIM this summer on iOS and Android? Yes or No?
In both cases, we would love to tell you that RIM (Research In Motion) would be expanding its BBM services on two popular platforms that are iOS and Android. RIM on its BlackBerry Live 2013 event announced that it will be expanding its official BBM services exclusively on iOS and Android (terms and conditions apply) this summer.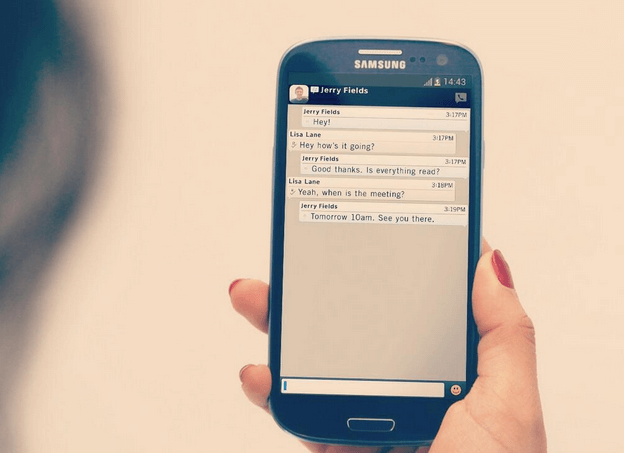 After RIM announced that it would be releasing BBM for iOS and Android this summer, the release date wasn't told due to some circumstances. However, later today T-Mobile UK Tweeted on its official Twitter account stating that BBM for iPhone and Android Release Date is scheduled for June 27, 2013.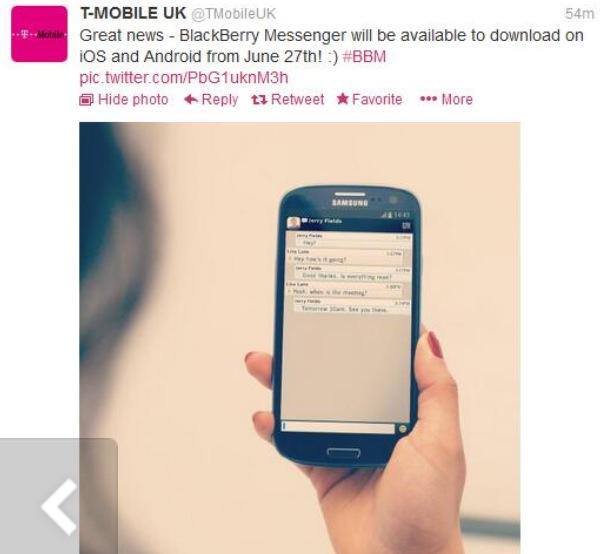 Thanks to iPhone Helpers for Posting the Tweet image on their FaceBook Page.
We are not putting our faith into this date because T-Mobile UK has deleted the Tweet and no such official confirmation regarding BBM for iPhone and Android Release Date has been made by RIM yet. We are waiting for an official to respond on this matter of BBM for iPhone and Android Release Date leak by T-Mobile UK.
Until an official responds to this leak of BBM release date of June 27, 2013, we would like to share the features of BBM for iOS and Android that would be coming in initial version.
The immediacy of BBM chats
Multi-person chats
Voice note sharing
BlackBerry Groups, where BBM users are able to set up groups of up to 30 people and share calendar, photos, files and more
The features like sharing the screens, video chat, linking of status with Apps such as FourSquare and More would not arrive to the iOS and Android version of BlackBerry because these features are limited to BlackBerry Z10.
UpdateX1:
BlackBerry has responded to SlashGear regarding the BBM for iPhone and Android Release Date leak by T-Mobile UK.
We haven't announced a date other than BBM for iOS and Android is coming this summer." Also of note: the original UK T-Mobile tweet has been deleted as well.
Initial functionality will be limited in comparison to what's available on BlackBerry's own phones. There'll be cross-platform chat, but users on Android and iPhone will have to wait a little longer before they see group chat, voice calls, and screen sharing on their handsets.