We are only three days away from seeing a whole new world that Apple has developed in Moscone West. Few days back Apple started to decorate Moscone West with its traditional makeup practice prior to its WWDC events. This year Apple decorated Moscone West for WWDC 13 with colorful banners and big icons hinting towards iVe's OS 7. This year, Johny Ive has revamped the upcoming iOS 7 version by making it white and black or we can say that he has changed the UI of iOS 7 for this years WWDC 13. This will be the first time in history that Apple would be changing its iOS UI and layout.
Previously we told you about the hint made by Apple towards the iOS 7 layout in its WWDC 13 logo by portraying big colorful icons in the banner portrayed Ive's look of iOS 7. However, as of now the case seems to be different because Apple has installed the iOS 7 Banner at Moscone West for WWDC 13 and the banner is portraying a big 7 on a white dotted background.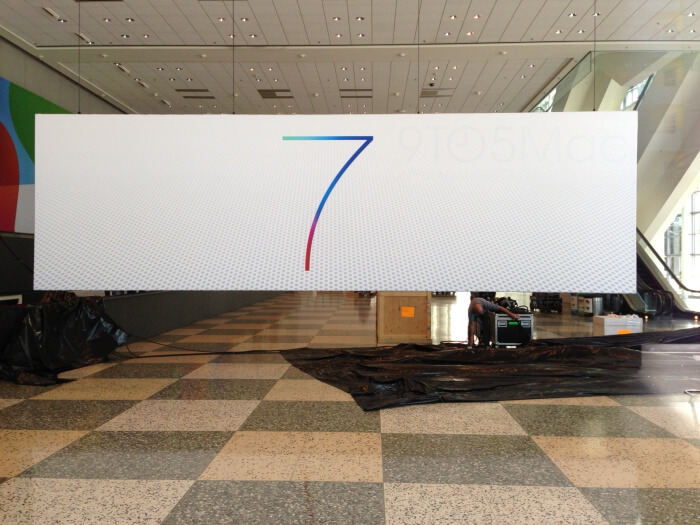 The white dotted background clearly portrays the background color of iOS and the colorful 7 might be portraying the color scheme that would be introduced in iOS 7. The color scheme wouldn't be showcased as wallpaper of fancy images; the color scheme would be portrayed as new colors of the old icons. Hence, the color of the old icons would be changed and the UI of iOS 7 might see some changes as well.
The changes that would be made to iOS 7 would be portrayed on WWDC 13 on June 10, 2013 at Moscone west, but the real thing that we all wanted was told by Tim Cook days before WWDC 13 announcement. The real thing is present here.
In addition to all this iOS 7 and real thing, the Jailbreak of iOS 7 is almost ready by P0sixninja. The entire wait is of the arrival of iOS 7 Beta 1 at WWDC 13.
What are your views about the iOS 7 Banner with dotted white background?