After the showcase of Samsung Galaxy S4 Mini, HTC has planned to release HTC One Mini or HTC M4 with a 4.3-inch screen size and 720p display. It will be the first time in history if HTC releases HTC One Mini because HTC has never ever released a low-end version of its major flagships. It was Samsung that started with the concept of Mini Version of its flagship after the arrival of Galaxy S3 and Galaxy S4. Samsung Galaxy S3 Mini with a 4-inch display was the first handset with low-end specs to be released by Samsung imitating the same design as of Galaxy S3 Flagship.
Then after the release of Galaxy S4, Samsung unveiled another smaller version of its Galaxy S Flagship called Galaxy S4 Mini that will be showcased on June 20,2013 in London. The main point over here is that Samsung is the one that started with Mini series and HTC seems to be following the footsteps of Samsung. Everything is unofficial now because Engadget has got their hands on an image that is imitating the same design of HTC One and it is believed that the handset is HTC One Mini or HTC m4. They their self are skeptical about the name of the handset.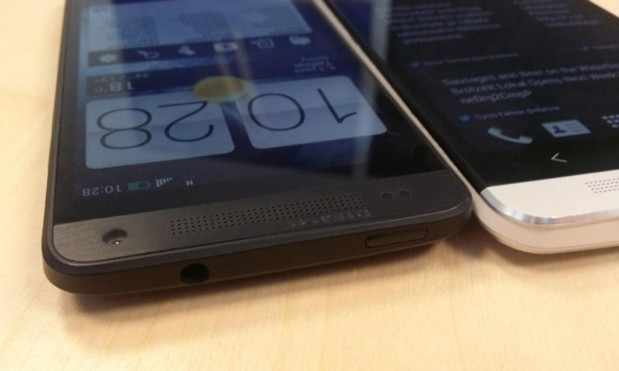 However, after seeing the image above, we will name the smart phone to be HTC One Mini because it is imitating the same design as of HTC One with very few amendments.
 HTC One Mini Specifications:
The specifications leaked by forte.delfi.ee for HTC One Mini are a dual-core processor, 2GB of RAM, 16GB internal storage and a 4MP Camera with UltraPixel technology.
HTC One Mini Release Date:
The HTC One Mini Release date as stated by the same source is for August at a price of €400. We would suggest that not to put your faith into this release date because the source that told about this information has no past record of providing legit news. We will take this news and image as a rumor.