The time is running out and the show will begin in less than 24 hours. The name of the stage show is, "We have got a Little More to Show You". The place of this stage show is California Theater in San Jose. The date and time of the show is October 23, 10:00 AM. This show isn't an ordinary show. People from around the globe would be glued to their Computer screens to see this show live from their homes. The special thing about this stage show is that, the favorite fruit company of every one and the leading Tech Giant is going to host this stage show.
We hope you got the name of the company. The name of the company is Apple. Yes, Apple is going to take the world on October 23 by announcing their new lineups of MAC's and iPad Mini. The stage show will begin at 10:00AM California time. Before the show begins, Apple dressed the California Theater in San Jose with colorful logos and small text on the outside header of the Theater saying, "Apple Special Event".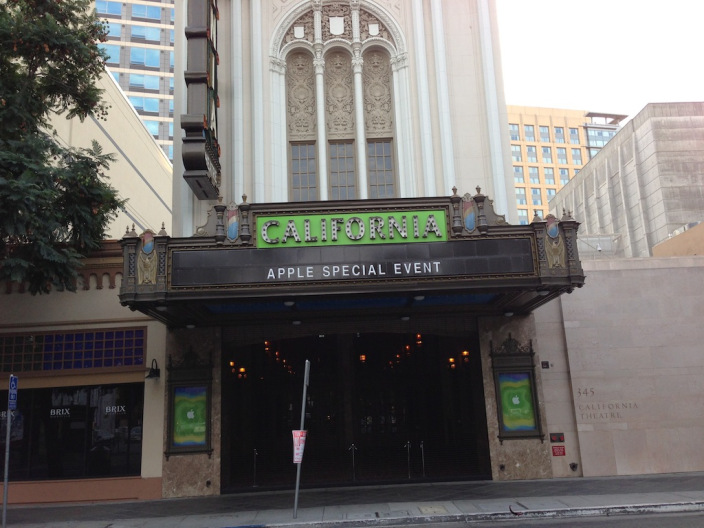 The colorful logos around the corner of the California Theater in San Jose grabbed the attention of Techie-Buzz and made them take some snapshots of the venue before the media personal could arrive at the event at 10:00am.
This is the same place and Theater in which, Steve Jobs (Late) announced the iPod Classic series in 2008. This year at the same venue, the iPad Mini, iMacs, MAC Mini, MAC Book Pro Retina 13-inch, and some software updates would be announced by Apple. Meanwhile waiting for the event, go through our expect the unexpected prediction that we made few days back.