While Apple is getting ready for the iPad Mini Media Event that is just 24 hours away from now, Mark Gurman of 9to5mac, have done some serious retail pricing for the iPad Mini. The starting price of the iPad Mini was supposed to be around $200-$250 for the 8GB Model, where as the introductory price told by Gurman is of $329 for the iPad Mini. The capacity of the iPad Mini is not known. According to the sources of 9to5mac, the introductory price of the iPad Mini Wi-Fi model only would be priced at $329 at minimum.
Apple's entry price for its upcoming smaller iPad is between the base model of the new, fifth-generation iPod touch ($299) and the currently shipping WiFi-only 16GB iPad 2 ($399). According to our sources, the base model of the smaller iPad will likely be priced at a minimum of $329 in the United States. 
The base model of the iPad Mini would be priced at $329; where as the two higher-capacity models will be priced at $429 and $529. Other than the Wi-Fi Models of the iPad Mini, it is expected that three cellular models will also arrive with a $130 premium over their Wi-Fi models. This means the Cellular Models will add $130 in the preceding Wi-Fi Models price. If the Wi-Fi model costs $329, the Wi-Fi + Cellular Model will cost $459 and so on.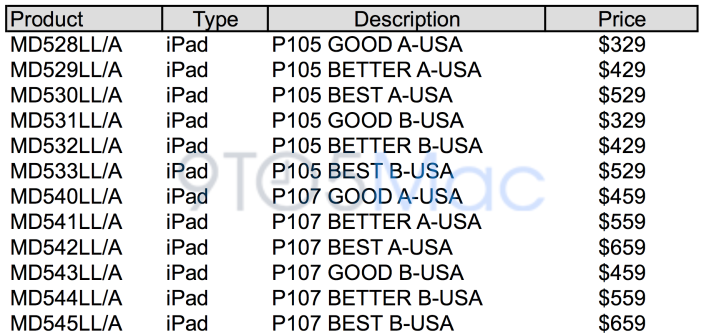 As you can see above listed are the iPad Mini Price list that 9to5mac have made based on the iPad prices.
Various sources have mentioned about the iPad Mini to debut with a 7.85-inch screen, lightning dock connector, front and rear camera, and completely redesigned.
We are only a day from the iPad Mini unveiling, we will come to know on October 23 that what Apple is up to and what they got to share with us. The iPad Mini is just a single part of the Media event. it is highly anticipated that iMacs, MAC Mini, MAC Book Pro Retina 13-inch, and iBooks 3.0 would be announced.