China is moving advanced ahead of the iPhone 5 launch. It seems that China is more excited to see the iPhone 5 before it is unveiled. Therefore, every leak comes from China. At first, the iPhone 5 Mockup surfaced from China and then every hardware parts were leaked from China. No doubt, the iPhone's are made assembled in China and designed in California. Following the tradition, this year the iPhone 5 would be made in China by Foxconn. As the iPhone 5 launch is coming near by, the accessories of the alleged iPhone 5 have started to leak one after another. Until now, no prominent iPhone 5 design has become known. We have seen the alleged leaked design that has being rolling out on the Internet from preceding months.
Unfortunately, the case manufacturers are using the same alleged design of the iPhone 5 based on unproven confirmation's. At the same time, the case manufacturers in China are overwhelming the Chinese Mobile accessories market with iPhone 5 bumper and cases made on the supposed mockups. Today, MIC Gadget got their hands on some of good-looking iPhone 5 bumper and cases to show how they look and fit on the iPhone 5 mockups. They bought cheap iPhone 5 mockups to see how the bumper and cases fit on the iPhone 5.
As you can see in the first picture, there are tons of iPhone 5 cases lined up by MIC Gadget. The cases are available in different verities and colors.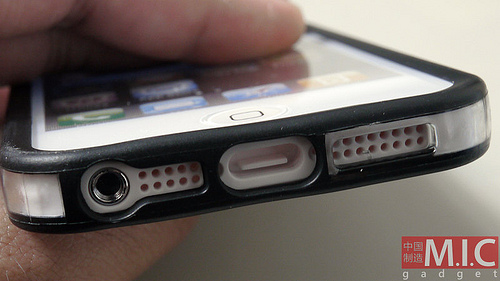 In the second picture above, you can clearly see how the bumper case fits in the iPhone 5 mockup perfectly and it is purely made for the iPhone 5. The rumored allocated headphone jack at bottom and large speaker grill is looking good in the above bumper case.
A part from the bumper and cases, iPhone 5 screen protectors were also spotted in the wild.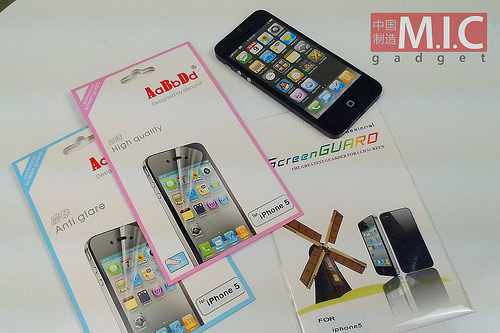 However, the iPhone 5 bumper and case manufacturers are their self not sure if the iPhone 5 would look the same or will be changed. Last year, before the announcement of iPhone 4S, it was highly expected that Apple would announce an iPhone 5. Unfortunately, Apple didn't announce a new designed iPhone 5 and case manufacturers who did same type of work were in cavernous shit. They had to bear a huge loss because of making alleged cases for the iPhone and putting them on sale. Last year, there were not many leaks as they are done in the matter of iPhone 5.
The iPhone 4S leaks were not that much as compared to iPhone 5. Therefore, we can expect the case manufacturers to be on safe side in the matter of iPhone 5 bumper and cases.
Over here you can see the full gallery of iPhone 5 bumper and cases in different varieties.
The iPhone 5 Media Event would take place on September 12.