Samsung Galaxy S4 Zoom is the first Android based Camera Phone to debut by Samsung in few weeks. The rumors regarding Galaxy S4 Zoom Camera surfaced the Internet time ago and nothing was confirmed, whether the rumors are real or fake. As time passed by, the rumors regarding Galaxy S4 Zoom Camera started to take a great pace and confirmations started to arrive regarding its legitimacy. Later on, it was confirmed that Samsung is going to announce Galaxy S4 Camera Zoom this summer.
However, the thing that wasn't clear about this Galaxy S 4 Zoom was about the ability of calling function to be added in this version or not because in the previous version of Galaxy S Camera, there was no functionality of calling. We did reported about the alleged functionality of calling feature to be added in Galaxy S4 Zoom Camera, but nothing was confirmed. A reliable source did told that the calling functionality would be arriving in Galaxy S 4 Zoom Camera, but they their self were skeptical about this feature because it was an advance feature to be added in a camera.
To clear the doubt of calling functionality, SamMobile has obtained the first image of actual Galaxy S4 Zoom with real time functions that would be coming in Galaxy S 4 Zoom Camera this summer.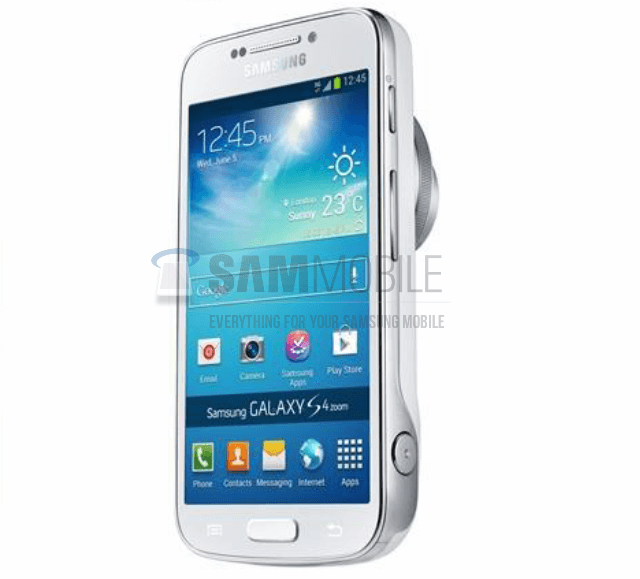 The Galaxy S4 Zoom obtains a 4.3" qHD AMOLED display with a 1.6GHz dual-core processor, 16 MP camera sensor with optical zoom, 8 GB internal and external micro SD up to 64 GB, Bluetooth 4.0, LE Wi-Fi 802.11 a/b/g/n, and A-GPS. This means that Galaxy S 4 Camera would be quipped with a SIM Card that will allow you to use GPS and will allow you to call as well. Samsung Galaxy S4 Zoom Camera Phone would be equipped with Android OS 4.2.2 and Samsung's own Touch Wiz.
So far, we have seen the unveiling of Galaxy S4 Active, Galaxy S4 Mini, and now Galaxy S4 Zoom. Hence, we know that Samsung would be announcing the same things on June 20,2013 in London at its Premiere. We had already made a list of all these things that is present over here.