Samsung Galaxy S4 Zoom Camera Phone surfaced the Internet from nowhere claiming to have a 16MP front facing camera.
Recently, the Korean company released its Galaxy S Series Flagship called Samsung Galaxy S4 around the globe hoping that the sales of Galaxy S4 will make a new record. Until now we haven't heard any word regarding Galaxy S4 topping the sales line around the globe or in any country. What we are hearing is something amazing and shocking. The amazing thing is that the Korean company has planned to release Samsung Galaxy S4 Mini somewhere in July because they want to beat the budgeted iPhone (rumored) sales and the shocking thing is that the company is planning to make a Galaxy S4 Zoom Camera Phone with 16MP front facing camera.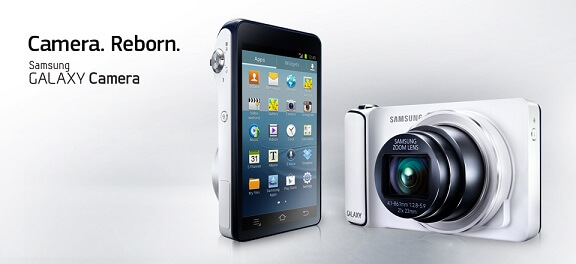 Did we just hear that Samsung is going to announce a Galaxy S4 Zoom Camera Phone that will feature a 16MP front facing camera? This might sound a bit illogical, but in this era of technology, anything can happen. The exclusive news about Galaxy S4 Zoom Camera Phone comes from Sammobile who got information from its insiders regarding this Galaxy S4 Zoom Camera Phone.
We just received the first information regarding Samsung's first camera phone, the Galaxy S4 Zoom.The Galaxy S4 Zoom should be Samsung's first camera phone with a 16 megapixel camera!
The name of the Camera Phone must be new, but the functionality and design might be old as of the Galaxy S Camera. If you can recall the past event of IFA 2012 in which Samsung announced Galaxy Camera with a 4.3-inch touch screen, Android 4.1.2, SAMOLED Display, and all features were present other than the calling option. The option of calling was the sole feature that was held back by Samsung. Therefore, the Korean Company might have planned to reborn the camera by introducing Calling feature in this Galaxy S 4 Zoom Camera Phone.
The Galaxy Zoom Camera phone will have 8 GB of storage, MicroSD up to 64 GB, Bluetooth 4.0 LE, Wi-Fi 802.11 a/b/g/n, A-GPS and Android OS Jelly Bean and Touch Wiz Nature UX interface. The processor is likely to be dual-core or quad-core because the final decision hasn't been made yet.
Hence, it is proved that Samsung will be coming with an innovation that is to introduce a Camera with Phone functionality and will improve many things in it to make it a successful Camera Phone.