This might sound very strange that the latest iOS 5.1.1 released by Apple few hours back got PWNED. The new version of iOS 5.1.1 got Jailbroken on iPad 3 which might sound impossible and might increase hopes among users. The news is true about the iPad 3 Jailbreak on iOS 5.1.1. The old hacker does the Jailbreak and a security researcher called i0n1c (Steffan Easer), who has now become a villain in the Jailbreak community by not releasing the Jailbreak for iPad 3 and previous devices. He is no doubt against all kind of piracy's like @pod2g, the person behind the untethered Jailbreak for iPad 2 and iPhone 4S. They both are not related with each other. @pod2g and @i0n1c are on different teams with same mission. The mission is to make Jailbreak for the latest iOS versions.
The only difference between both of them is that, @pod2g releases for public and @i0n1c keeps for him self and enjoys. This is something strange.
Now coming to the point, @i0n1c accidentally Tweeted that, while he was asleep, his Girlfriend updated his iPad 3 on to iOS 5.1.1 and he some how Jailbreaked it. This is something really crazy and funny.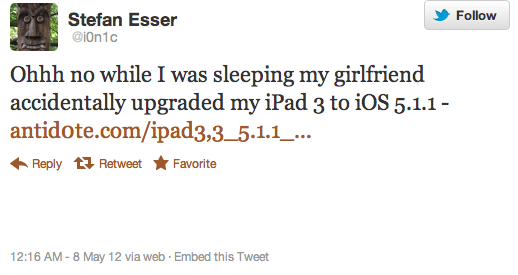 Ohhh no while I was sleeping my girlfriend accidentally upgraded my iPad 3 to iOS 5.1.1 – antid0te.com/ipad3,3_5.1.1_…

— Stefan Esser (@i0n1c) May 7, 2012
He showed the proof of the Jailbreak with the help of Cydia, showing his iOS version and iPad model. See the proof below: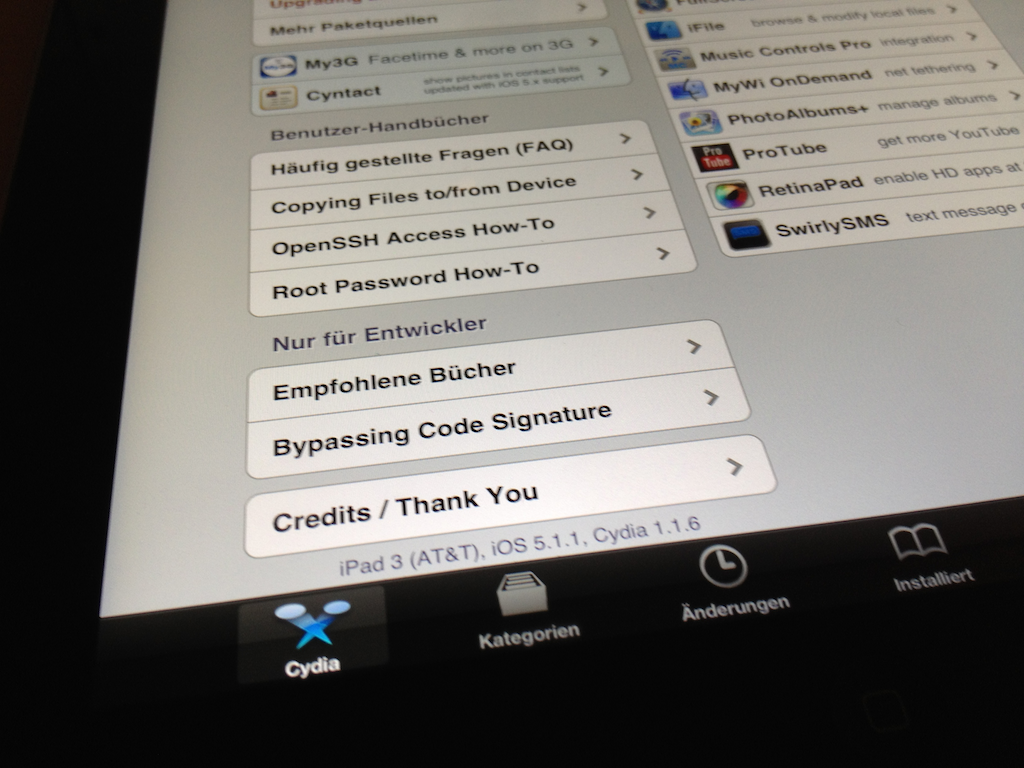 Now don't get excited after seeing the above image because @i0n1c has no plans for releasing the Jailbreak for public. Still, the exploit he founded on iOS 5.1 to Jailbreak is functioning on iOS 5.1.1, this means that Apple hasn't yet fixed the Jailbreak exploit in their new iOS 5.1.1 update.
Meanwhile, the Hacker, @pod2g is actively working on the untethered jailbreak for iPad 3, iPad 2, iPhone 4S and older devices. Recently he showed some significant progress regarding the Untethered Jailbreak for iPhone 4. He tweeted on his Twitter account stating that his iPhone 4 is now untethered jailbroken on iOS 5.1. Still, unlockers and jailbreakers should stay away from this and upcoming future updates by Apple.