The rumors regarding iPhone 5 are going high on the heels these days. We have seen many leaks of the design, spare parts, screens, and much more in past few weeks. We are reporting the leaks of the iPhone 5 since May. The first time when we reported about the iPhone 5, we posted out some pictures of the iPhone 5 in May, then in July we came across the parts, and before the launch in August we came across a video of the assembled iPhone 5 hands on. Now continuing the leaks, we have come across a new leak of the iPhone 5 that is called the SIM Frame.
This new SIM Frame leak comes from a French Blog called, NoWhereElse. The respective Editor of the blog, Steve has claimed to have hands on the iPhone 5 SIM Frame. The SIM Frame that has been leaked is said to be a bit smaller than the iPhone 4S making it go NANO. This leak of the SIM Frame came from no place other than China.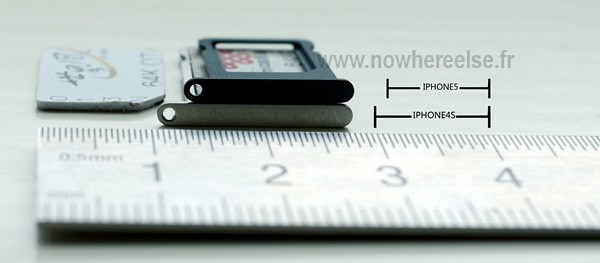 According to the Blog, this leak of SIM Frame was a rumor until few days back until they came across news that the French Operators have ordered a bulk amount of iPhone 5 SIM Frames.
This novelty was still a rumor a few days of this he has somehow been confirmed by the sudden and large orders of Nano SIM performed by all French operators for the launch of new iPhone .
You can see the images of the Nano-SIM Frames: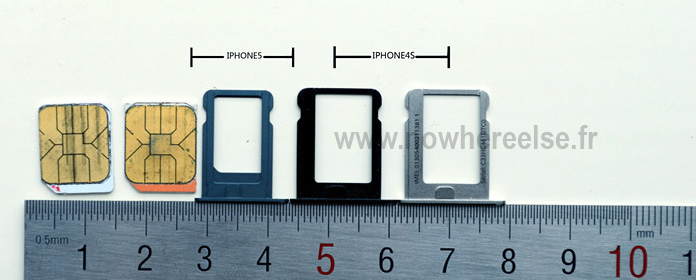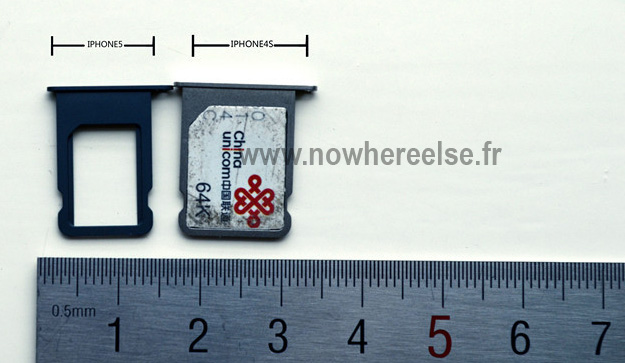 The above leaked images shows that the new iPhone 5 would be carrying Nano-SIM Cards. This time Apple is taking on with a completely new look for its iPhone. It seems that Apple is trying to make a competitive advantage over its competitors by making this new NANO-SIM Frame for the upcoming iPhone 5.
Previously Apple was rumored to adopt a new NANO-SIM technology in their iPhone's last year. Somehow, that rumor couldn't see the daylight. This time the sources are rock firm about the upcoming iPhone 5 and the leaks are suggesting towards the same leaked assembled iPhone 5 that was shown in video present here.
In addition to the above leaks, we are only few weeks away from the official launch of the iPhone 5. The rock firm date is September 12.
Recently Apple has released the fourth Beta of iOS 6 and the final release will be made this fall with the iPhone 5.
(Engadget)