Samsung Galaxy Note 3 design wont be having plastic surgery this year because Samsung has planned to release Galaxy Note 3 in the same design as of Galaxy S4.
We are passing by the month of summer and the heat of rumors is increasing like a scorching sun. The only difference between them is that the sun is outside and rumors are on the Internet. The scorching sun is not safe, but the rumors are safe and reversible. Following the rumors regarding Samsung Galaxy Note 3 like a religion from scratch, we know that it is going to be a beast and the release date is scheduled for fall or sometime in July. We are skeptical about the release date because nothing can be said about it. Most probably, the release would be made at IFA 2013 that is going to be held this Fall in Berlin, Germany.
After hearing about the arrival of Samsung Galaxy Note 3, the expectations from this mean machine got an increment because it will be featuring an 8core CPU and GPU. Moreover, the design of the Galaxy Note III was said to be going under plastic surgery. This means that the design of Galaxy Note III would be changed and it will get new flexible technology screen. Hoping that Samsung would be changing the design in its upcoming Flagship made the hopes high of the Galaxy Note Lovers because the design rumored to be changed and the screen technology said to be changed.
Unfortunately, nothing new in design and display is going to arrive in Samsung Galaxy Note 3 because Samsung wants to milk the design of Galaxy S3 until the lovers aren't tired of it. Samsung is planning to make a new record of most used design since 2012.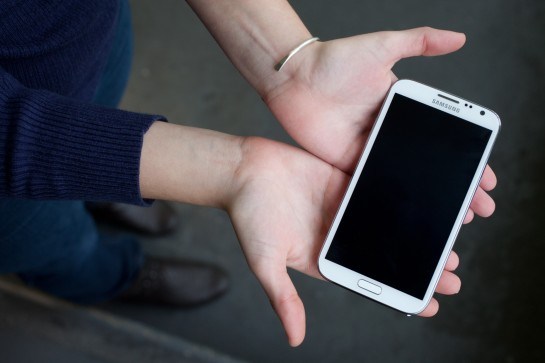 This unfortunate rumored news comes from SamMobile, a reliable news blog related to Samsung. The internal sources of SamMobile told them that Samsung has no plans on implementing the renewed metal design and the Korean company has also dropped the flexible displays for Galaxy Note third flagship.
According to the insider of SamMobile, not only Samsung dropped the Flexible Displays for the Galaxy Note III but now has also dropped the renewed metal design.
The reason told by the source on dropping the flexible display and metal design from Galaxy Note III is Samsung failed to meet the high demand of the renewed design. Therefore, the Korean company has decided to go with the Galaxy S4 design on Galaxy Note III.